Shazam! is still in production, with Chuck's Zachary Levi spotted on set in a cheerfully bright, comics-accurate Shazam costume. Warner hasn't released any official photos or footage yet (they're rumored to be releasing something soon), but that didn't keep director David F. Sandberg — who has the thought-provoking Twitter handle "pony smasher" — from piecing together a substitute trailer for April Fools' Day. The joke is in line with the playfulness and (in Dwayne "The Rock" Johnson's words) the "winking humor" of Shazam!
The video starts out like a typical DC Extended Universe trailer, with a voiceover of weighty dialogue — voiced by "pony smasher" Sandberg himself — against a dark screen (jeez, these DC movies and their darkness). There are early hints it's fake, however, like the use of the Wonder Woman score and the old version of the Warner/DC logo. Then it delivers the punchline: scenes from the CBS Shazam! TV show from the '70s set to AC/DC's "Thunderstruck." Not going to lie, if you set just about anything to "Thunderstruck," it'll seem exciting. Even a pony chase (smash that pony).
Sandberg also changed his Twitter banner to a new title for the film: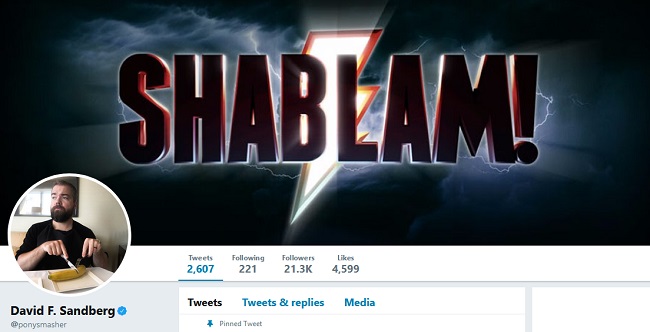 Shazam! opens April 5th, 2019. Shablam! opens never.
(Via David F. Sandberg)