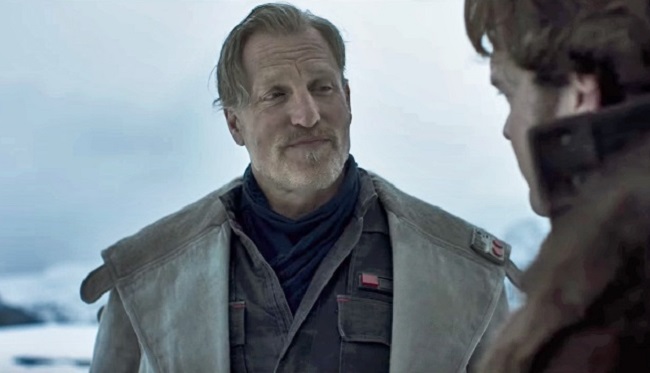 Now that Solo: A Star Wars Story has finally released its first trailer, details are emerging about some of the supporting characters like Emilia Clarke's Qi'ra and Lando's droid co-pilot. Those details came from Entertainment Weekly's current issue, which also explains who Woody Harrelson, Thandie Newton, and Paul Bettany are playing.
Despite Woody Harrelson seemingly pulling an interviewer's leg by saying he's playing Shrike, EW reveals his character is Tobias Beckett, a charismatic, tough criminal who will have a huge influence on Han Solo. Screenwriters Lawrence and Jon Kasdan told EW they took inspiration from the relationship between Long John Silver and Jim Hawkins in Treasure Island, while director Ron Howard said, "[Beckett] shapes Han really more than anybody, as Han comes to realize that in a lawless time he needs to try to come to terms with some kind of moral code."
Val, a long-time partner of Harrelson's character, is played by Thandie Newton, as briefly seen in the first trailer polishing an enormous blaster and giving someone (probably Han) the side eye: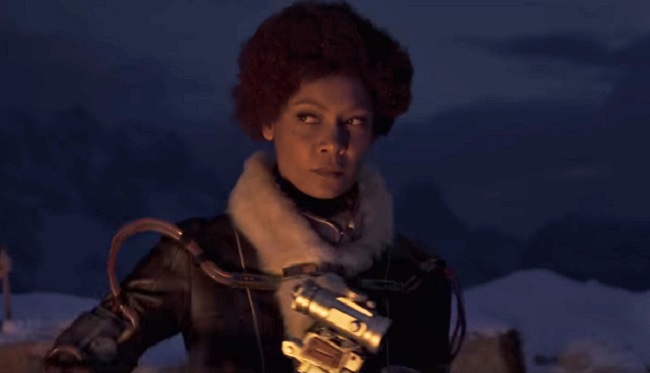 Jon Kasdan dropped some intriguing but vague hints, saying Val "doesn't necessarily have total faith in Han — as a lot of people he meets in his life tend to feel about him. She's a little skeptical of this kid when she meets him. And her relationship with him goes in, I think, an… interesting direction."
And then there's Paul Bettany, who's playing Dryden Vos (no relation to Quinlan Vos).
Dryden Vos is a suave and wildly successful crime boss, whom Jon Kasdan described as a "combination of class and swagger and real danger" and likened to Michael Gambon's character in Layer Cake and Albert Finney's character in Miller's Crossing. Ah, but will he give a speech like the one Gambon gave in Layer Cake? Disney would never allow that.