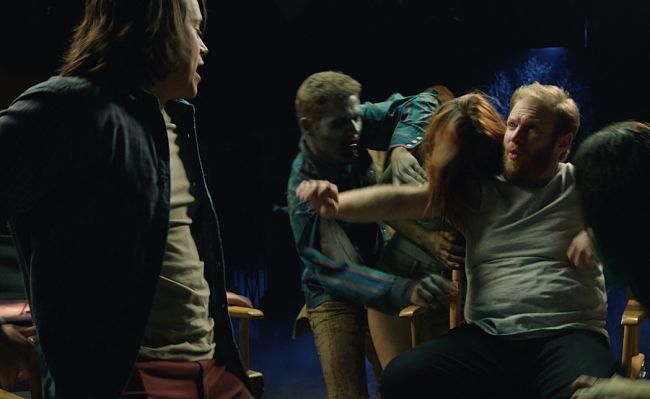 It's a packed episode of The Core, Shudder's original series about all things genre (co-produced by Uproxx), this week. The featured guest is Your Pretty Face Is Going to Hell star Henry Zebrowski, who also hosts The Last Podcast on the Left, the popular horror podcast that "laughs into the abyss that is the dark side of humanity." Also around for the episode, which is dedicated to the late, great George Romero and Tobe Hooper: The Texas Chain Saw Massacre cinematographer Daniel Pearl, The Texas Chainsaw Massacre 2 special effects master Gabriel Bartalos, and Dawn of the Dead actor Ken Foree.
Needless to say, look out for zombies.
Here's more on The Core.
The Core is a dissection of the brilliant minds from which genre films spring. Whether it's a demo on head explosions, or a primer on avoiding predictable jump scares, The Core busts open the traditional talk show and plays with its guts. Host Mickey Keating and his guests examine the onscreen techniques and real-life psychologies that strike fear into our very core. We'll turn you on to what's thrilling in filmmaking today, without subjecting you to a chat with that dude Greg from film school. (Via)
To watch every episode of The Core, including recent installments with SpectreVision and American Psycho's Mary Harron, head over to Shudder.