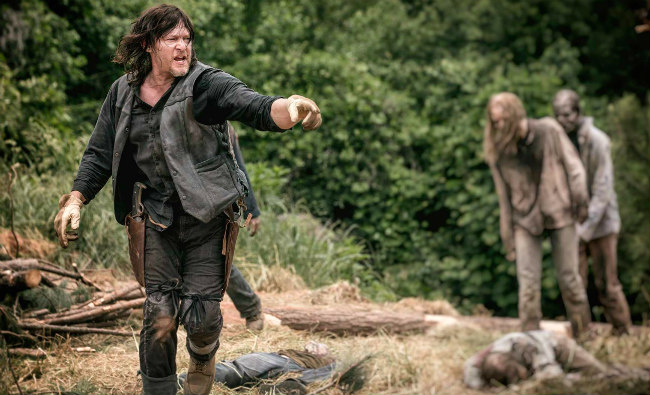 Following back-to-back solid episodes, The Walking Dead has found itself in a nice groove to begin season nine. But is it too late for viewers?
Variety reports that Sunday's episode, "The Bridge," was the lowest-rated episode of the entire series in the all-important adults 18-49 demographic. That, coupled with only 4.9 million viewers in the Live+Same Day numbers, is not what AMC was expecting in the lead-up to Rick Grimes' forthcoming departure.
The show's previous low in the key demo was a 2.4, which was set during season one. That is also very close to the show's current low in total viewers, which is 4.7 million, also set during season one. This week's episode was also down around 20% in both measures from last week's season premiere… The season nine premiere was the lowest-rated premiere in series history. It was down approximately 50% in the key demo [2.5 million] and 47% in total viewers [6.08 million] compared to the season eight opener. (Via)
The Walking Dead has only dropped below six million same-day viewers seven times: all six episodes of season one, and episode two of season nine. That's the glass half-empty. The glass half-full is that the episode still ranked second in the demo on Sunday night, and the only thing that beat it was arguably the best NFL game of the season on Sunday Night Football. Still, it's a not-insignificant fall for a show that regularly used to bring in 14 million viewers. Stay tuned if the ratings sink lower, but also stay tuned to The Walking Dead, AMC hopes.
(Via Variety)