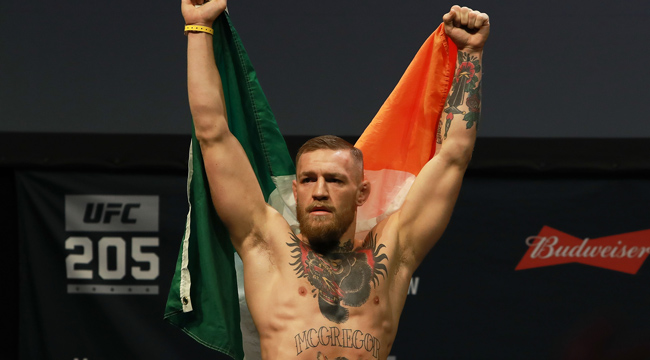 It's not always easy being the king. Conor McGregor has a target painted on his back now, not just with those in the lightweight division but anyone in the UFC looking to make a few headlines. It doesn't help that McGregor has been pretty critical of the other fighters on the roster for a while now, dissing them for refusing fights and faking injuries.
"Behind the scenes he is like a scared little kid," Donald Cerrone said back in October. "He hides from us. When they line us all up they take Conor and put him in another room because he can't be around other fighters because we don't play that sh*t."
They certainly weren't Friday night: McGregor almost got into two scuffles backstage at the UFC 205 weigh-ins. One was a follow up on a Twitter exchange between Conor and welterweight champion Tyron Woodley. Tyron posted a video of the near brawl between McGregor and Eddie Alvarez at Thursday's press conference with the caption "How you act when you know somebody will break it up!?" McGregor didn't appreciate that, calling Woodley a bitch online, and now here he is saying it in real life:
Then there was a run in with Khabib Nurmagomedov's team. There's less info available on what this was all about, but past experience says Khabib's crew doesn't play. They were involved in a brawl with the Diaz brothers that spilled out of a World Series of Fighting event into the lobby of a Las Vegas casino.
Khabib has said in the past that Conor would never fight him, and we'd say that's not a bad assessment of the situation. Nurmagomedov is one of those fighters that's way too good and way too unknown for McGregor to risk a fight against. So maybe he's trying to make it personal against the Irishman by sparking a confrontation at the weigh-ins.
With so many fighters looking to make a name off McGregor, it's no surprise he's now holed up in his own dressing room before his fights. If Madison Square Garden didn't have the largest security guards we've ever seen, half the UFC 205 card may have gotten into an unsanctioned scrap with Conor last night.