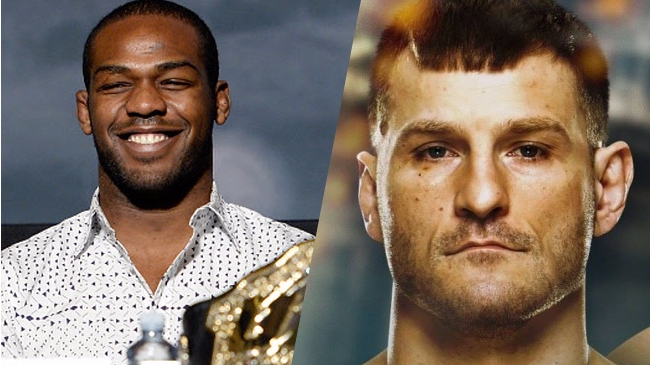 From pretty much the moment that Jon Jones first captured the light heavyweight title, he has been hinting — if not outwardly stating — that a move to the heavyweight division was all but inevitable. "When I compete at heavyweight, I plan on weighing like 240 and I really won't want to get much bigger than that," said Jones in a 2012 interview with BloodyElbow. It was a sentiment begrudgingly shared by UFC boss Dana White, who told reporters shortly thereafter that, "The guy eventually is going to naturally have to go to heavyweight because he's so big … as he gets older, it's going to be harder to cut that weight. It's going to be harder to stay as lean as he is, and it'll just naturally happen."
So with his list of fresh challenges at 205 ever-dwindling (it's basically just Anthony Johnson at this point) and his current suspension on the verge of being reduced and/or repealed entirely, the time has never been better for the former light-heavyweight king to consider move up a weight class. Following Stipe Miocic's big win over Alistair Overeem at UFC 203, Jones took to Twitter to reiterate his interests in challenging the heavyweight champion for a title should the UFC be so inclined to give him the chance.
To be clear, this isn't the first time that Jones has called for a fight with Miocic. Back in January, Jones responded to a fan tweet asking about just such a matchup with the Cleveland native, writing "If it was for the actual title I would totally do it." (Oh Jon, don't you understand that no one cares about title fights anymore?)
For what it's worth, Miocic has already responded to Jones' callout and seems ready to do the damn thing.
"I'll fight whoever," Miocic told TMZ. "He's a great guy, we've talked before, very nice guy to me. Like I said, I'll fight whoever they want me to fight. If they want me to fight Jon, I'll fight Jon or whoever they want me to fight next — Cain (Velasquez) JDS (Junior dos Santos), (Fabricio) Werdum — I don't care."
While the me of six months ago would prefer to see Miocic face the most "deserved" contender next (which would probably be the winner of a Werdum/Velasquez rematch), the me of right now is all for booking Miocic vs. Jones, given that the latter is actually able to return to fighting within the next few months. That's the money fight, after all, and money fights are all that matter nowadays…
… You know what, f*ck it, I say the UFC goes ahead and books Miocic vs. Punk on the grounds that the champ has to fight on his knees with one of his arms handcuffed to the cage and also Punk gets a baseball bat wrapped in barb wire. Miocic still beats him 10 times out of 10 easy.