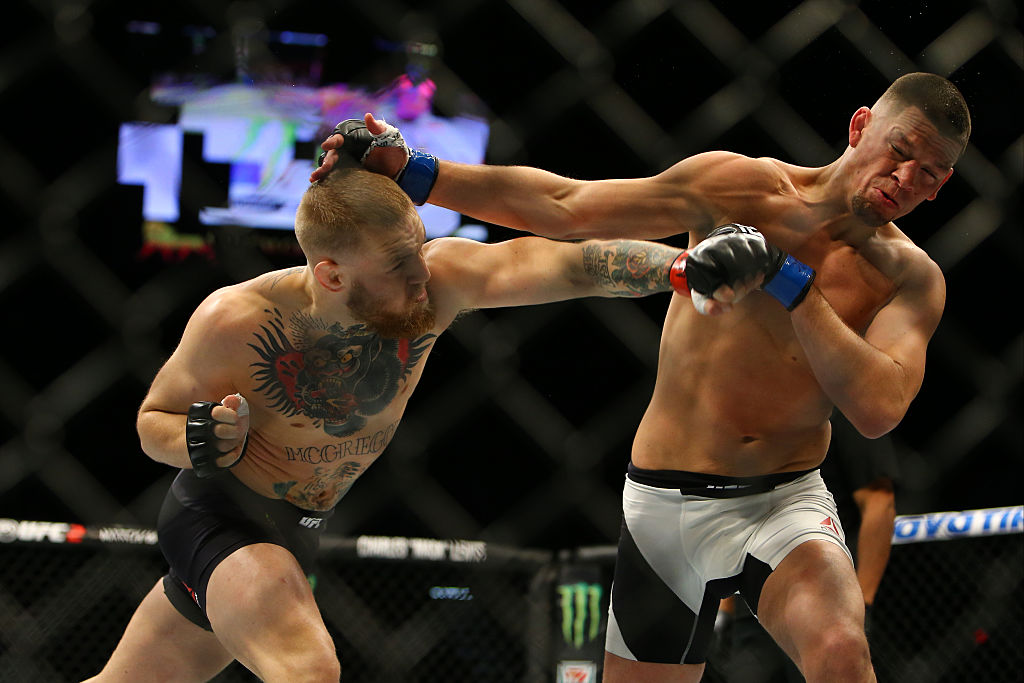 A lot has been said about the main event at UFC 202, a rematch between featherweight champ "The Notorious" Conor McGregor and former lightweight title challenger Nate Diaz in the welterweight division. From Conor claiming that he's spent over a quarter of a million dollars on this training camp, to the extra hype from both sides, the rematch could very easily surpass the original for how great and insane a fight can get. However, that first fight, the main event of UFC 196, might shed some light on what both fighters need to do. Welcome to the Fight Rewind.

What Worked for Nate Diaz

Body Shots
Don't believe the lies, Conor didn't get tired from eating too many breakfasts or "being inefficient" with his energy. Diaz laid a foundation for Conor to tire out with body work. Sure, McGregor didn't do himself any favors by putting so much into his strikes, but Nate's punches, knees and kicks certainly played a large part.

Stockton Slaps
I'm not trying to psychoanalyze Conor McGregor, or really any other fighter, but getting open-hand slapped and taunted throughout a fight probably has a psychological effect. Conor looked to have some early success with low kicks and body work, but seemed to abandon those tactics. Other fighters have done the same thing against both Nate and Nick Diaz, so I can only imagine that getting slapped and called a b*tch enough times can make a fighter throw a perfectly crafted game plan out the window and become an overly-aggressive head-hunting brawler.
What Didn't
Low Volume
Nate didn't throw a ton in either round, which is understandable. He was concerned about lasting all five rounds and didn't want to gas out in the first. Throwing a few more punches in each exchange would have helped Nate establish his rhythm and range a little quicker, and probably would have added up on Conor sooner.
Undefended Leg Kicks
McGregor eventually abandoned them, but Nate still didn't do much in the way of checking leg kicks. Those oblique stomps in particular look nasty and could have ended the fight pretty soon if Conor had landed a few more.


What Worked for Conor McGregor

Straight Lefts
I'm taking this from Joe Lauzon, but most of Conor's game plan is to back his opponent to the fence, trap them, and land his powerful left hand. That worked to some degree against Nate.
What Didn't
Spinning Sh*t
If Conor's cardio is on point, this might not be too big of an issue. McGregor tried for several elaborate spin kicks that completely missed Diaz. I'm sure if they landed, they would have been devastating, but if there's a question of having the gas to fight at a Diaz-style pace, these energy-intensive techniques should probably be scrapped. I will say that I'm not entirely sure Conor ever really intends to land these, but maybe just uses them to back his opponents to the fence and set up his left hand.

That Takedown
This is petty and little more than a jab of the knife at Conor, because I know he was gassed, rocked and desperate when he shot this double leg attempt. However, Nate did say that people "turn into wrestlers" when he hits them, and that's a dangerous position to be against Diaz. Also, how great is it that Melvin Guillard and Conor McGregor had pretty much the same reaction to a stiff Diaz one-two?
This obviously isn't a comprehensive list. Nate's one-two combos worked well for him, and Conor had some solid body shots as well. We'll see if Nate and Conor build on their success and adjust these missteps in their rematch in the main event of UFC 202, only on pay per view.