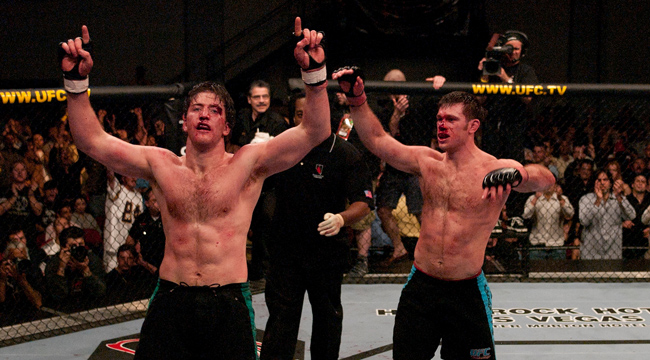 After a couple of months of business as usual at UFC headquarters, the new owners from WME-IMG are starting to switch things up. Gone from the company: over 50 employees, including many high ranking members of the UFC's international development team. And now we're learning that the UFC's long lasting TV series The Ultimate Fighter is also finally being put down. From longtime MMA journalist and insider Jeremy Botter:
The Ultimate Fighter kicked off in 2005 and is largely credited with helping the UFC break into the mainstream. The season one finale fight between Forrest Griffin and Stephan Bonnar was an epic barnburner that pulled in huge ratings and kicked off a golden age of mixed martial arts that saw the UFC go from $40 million in the red to a company that just sold for $4.1 billion.
But after 24 seasons (not including several international editions), the show has grown a little long in the tooth. The UFC has been running up to two seasons per year, and ratings have declined steadily even with superstars like Ronda Rousey and Conor McGregor put in the show's coaching positions. The current season (featuring flyweight champions from other organizations vying for a title shot against Demetrious Johnson) has been pulling in the lowest ratings ever.
But while The Ultimate Fighter ratings have been declining for years, there's never been talk of the UFC pulling the plug. Over the years, UFC president Dana White has been very vocal about it an important part of the UFC's strategy. But it seems like whoever is calling the shots at WME-IMG disagrees, and has decided it's time for the show to end. Many fans, sick of the repetitive format and having the promotion's top fighters tied up for 6 to 9 months as coaches, will probably agree.