"I always look at Circulate like a design firm," says Corey Populus, the founder and main creative force behind the brand Circulate. "How do we use design to fix problems?"
Populus looks at fashion as a means of expression, a medium to tell stories, convey emotions, and create conversation, it's part of the reason why his brand Circulate is one of our favorites and we consider him one of the most vital voices in modern streetwear. Born from the Fairfax Avenue scene in 2018, Circulate has been on a roll this decade — when lockdowns threatened the viability of small streetwear brands, Populous built an audience over social media, using direct-to-consumer sales methods to stay in conversation with the fans of the brand.
Now in 2023, the brand continues to grow and evolve. As the Uproxx Style Hotlist 2023 begins to roll out, we linked up with Populus to get an update on the brand as well as his take on what's currently trending in streetwear, and which brands you need to be paying attention to right now.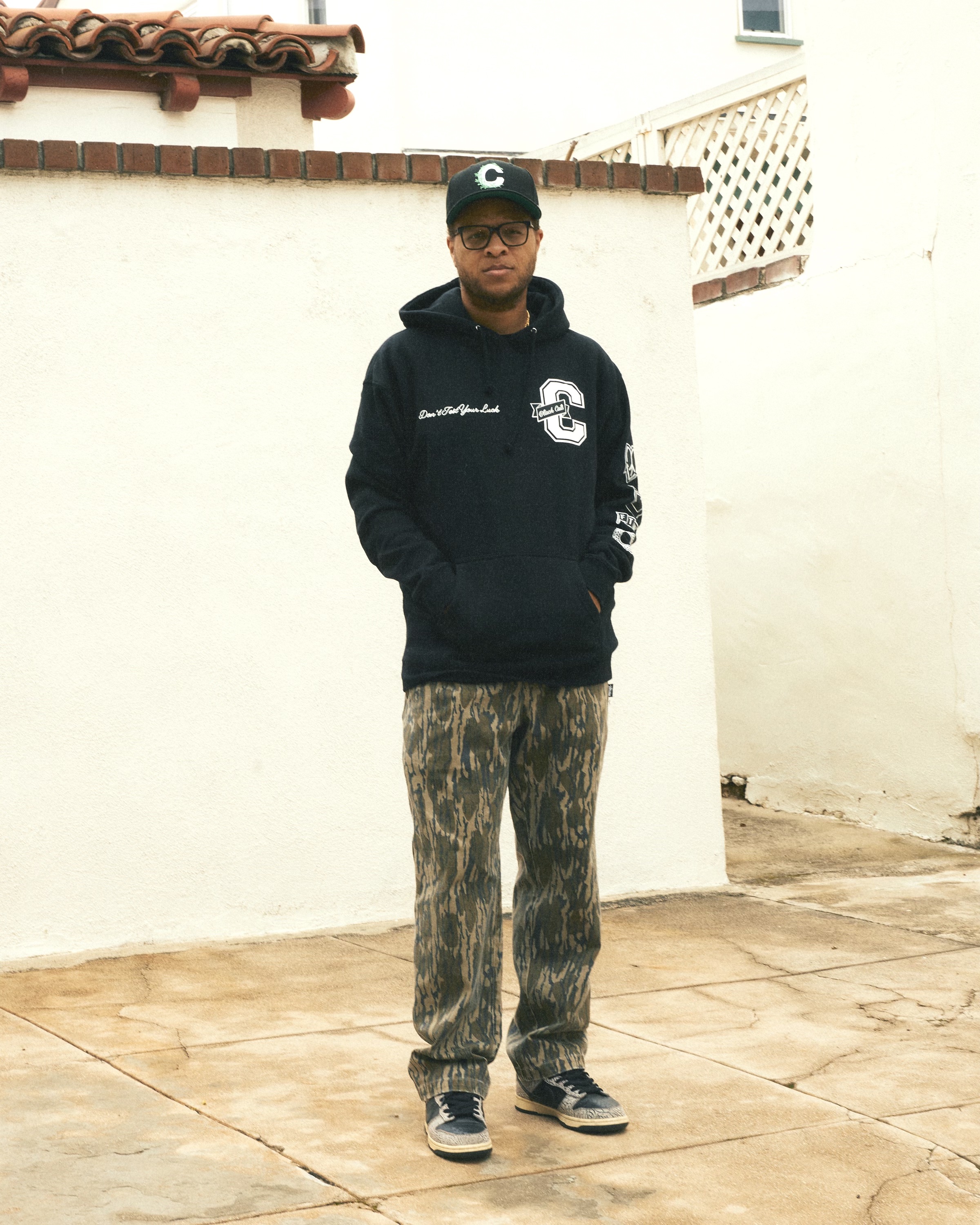 So it's been a minute since I talked to you. I'm just curious, where is Circulate in 2023?
Our focus right now is scaling up the business, getting into more retail doors, and just getting on the calendar. When you're doing retail, they buy on a calendar schedule. I'm still doing a lot of collaborations. Recently, we dropped a really big collaboration with Overtime, which was really cool. And the feedback so far has been really good, so super hyped on that. And just working towards next year, man.
Just getting ahead, scaling up the business, and trying to get this thing running as a well-oiled machine.
View this post on Instagram
Has that been challenging? I know that the brand really took off when direct-to-consumer was working so well because of the pandemic. Has that been an easy transition or a hard transition?
It's actually been really easy because we're still getting supported by all of our DTC customers, but it's more so just expanding the business. More hitting those places that you don't have eyes in, or you don't have customers in. And just having it in a local shop where someone could just walk in, and be like, "Oh, dope. What is this?" And now, you have a fan. You know what I mean?
One of the stores that I'm selling to is called Corporate in Cincinnati, Ohio, and I don't know anyone there, and I don't know if anyone on my site shops from there. But the owner's really cool, and he believes in my brand.
If someone comes in, and obviously our brand is new to the store, he is like, "Yo, check this out. This is a new brand." So that's more so the reason that I'm opening up more retail is just to get more eyes on the brand, and it's also just a perspective thing. When you go into cool stores, and you see newer brands, it just opens your mind to something new.
Is the brand still putting a major focus on social justice and storytelling?
Yeah. We'll always do that, but I don't want to get boxed into one thing. I don't want people to just look at my brand, and be like, "Oh, it's only about that." You know what I mean? Because we're capable of so much more. I always look at Circulate as a design firm. How do we use design to fix problems?
And that's kind of the way we move when it comes to design. The ethos of our brand will always be Black culture, community, social justice, and things like that, but I also don't want to get trapped into that. I don't want people to just see my brand, look at it, and be like, "Oh, that's the black brand." You know what I mean? Because there's so much more than that.
View this post on Instagram
I wanted to talk a little bit with you about trends in streetwear right now. I feel like the last three years or so were a transitionary period. This decade trying to figure it out its footing. Now that the look of the early 2020s is a bit more solidified, what trends are you noticing that are popping off? What can we expect to see in the future?
Obviously, baggy is coming back, man. It's crazy. We went through skinny jeans, and all of that stuff for so long. And now, you look at everyone's pants, and they're baggy.
What that leads to is also bigger shoes. People are wearing crazy runners and trainers. For example, someone just sent me a pair of HOKAs this morning, and they're like huge shoes, but they match the trend of everyone's pants that they're wearing now.
You see shoes like Solomon, New Balance, and other runners. Even with Nike, they've got their version of a runner, in the Vomero. Everyone's wearing Vomeros now, and that's because it fits with the aesthetic of baggy pants.
I also think that big logo stuff is going to come back. I know we went a super crazy minimalistic approach for the last 10 years, but I think big logos are going to come back as people turn to maximalism.
Honestly, I'm always stuck in my own world, and when I do take the time to leave my world and go scroll the internet, those are some things that I notice. I think those ones are going to be really big trends moving forward.
Have you noticed any changes in trends regarding what the modern staple silhouettes are for sneakers?
When it comes to that it's all about accessibility. Not everyone's going to be able to get the newest Jordans because you have to battle it out with the SNKRS app, or you got to go to your local shop, and there's a raffle system in place. At the end of the day, not everyone's going to win.
So I think that's where a lot of these brands, the Solomons and the New Balances, and all the other brands that were in the backseat to Nike or Adidas. They're starting to thrive because their shoes are a little bit more accessible.
There's not crazy raffle systems to get them. That's the reason why they're winning right now.
Independent collaborators like myself, that have brands, they're giving us a chance to collaborate on products. And that's also adding to the success of sales, and things like that.
What I see a lot of right now are fakes. Not everyone, but there's a huge part of the sneaker community now that is supporting fake sneakers because they're just fed up with not being able to access the limited hype ones. It's a super prevalent thing right now.
But I think it comes back to my original point. It's all related to the silhouettes of clothing that people are wearing. They want bigger sneakers. You can't wear a pair of Vans Eras with some big baggy pants. It's just going to eat the shoe. So you need a bigger shoe to match the silhouette of the clothes you're wearing.
What's the best way to style baggy? Are we doing a baggy on baggy? Are we going baggy for the top half?
It just all depends on the person. I see a lot of people go baggy on the bottom with a small T on top that hugs their body, or sometimes you'll see the guy with the baggy pants and the big T on top.
It's all personal preference, but I do see a lot of baggy on top.
Right. Let's talk a little bit about designers, or brands that you think are going to really pop up, get bigger in the next few years. Let's just start with whoever comes off the top of your head first.
View this post on Instagram
It's a mixture between streetwear and high-end fashion, but dude, they make the dopest stuff, and their campaign imagery on Instagram is really dope.
They do an iPhone lock screen, but it's the picture of the person wearing the clothes.
What they do is just as cool as Balenciaga does. They're just super extra with everything. You got to check it out to understand what I mean.
View this post on Instagram
I love Bricks & Wood just because of how good they are at honing in on the community beyond the product. Obviously, they make really good product, but, for instance, they've been celebrating their five-year anniversary this past week and the events that I've been going to, and how they're able to pack it out with different people I haven't seen in a really long time is something special.
The celebration has just shown me that they're really good at getting the community to come together for things. Whether it be a party, or some type of in-store event.
It's been really dope to see.
View this post on Instagram
I love Wckdthghts because of Khaleel Knight — his point of view on streetwear comes from a different perspective. He's not the Fairfax kid that grew up in that environment and was able to take those lessons and apply it to his brand.
He's coming straight out of the hood and I love that about him. The way that he was able to build his own community based off of that, and how big it is, and how much support that he gets.
I think that's really dope, and it just says a lot about how many different types of people are involved in streetwear. And we don't all have to come from this Fairfax incubator to make something shake.
View this post on Instagram
I really love MENACE because Steven Mena is putting on for the Latino culture of streetwear. The way that he showcases that in his designs and uses that as inspiration in the design represents a different perspective.
Recently, he did a collab with the LA Galaxy. From what I understand, Steven hasn't done a lot of bigger corporate collabs. They're a really big direct to consumer brand, and to see him starting to move in the space of big corporate is really cool. LA Galaxy is huge, and for it to be a soccer team, something that meant so much to him, is special. I know Chicharito (Javier Hernández) is a huge figure in soccer and Latino culture, to see how hype Steven was on that, and how it meant so much to his brand feels very authentic.
He's built a whole brand off of being direct to the consumer, to see him doing collaborations with brands that resonate really well with what Menace does, is really dope to see. Recently he did a collaboration for the new DC superhero film. Blue Beetle.
Blue Beetle is a Latino superhero so it's cool to see him building his brand that way, and I'm super proud of him.
View this post on Instagram
I met George Jenkins working on Fairfax. He worked at The Hundreds, and I think he's a bit younger than me. But lately, he's building his brand, and I really love to see the grind of it. It kind of reminds me of myself when I was first starting out, and he's doing it bigger than I ever did. He's bought his own embroidery machine, which I'm sure is really hard to learn but every day, I see them on Instagram just churning out new designs. Not waiting for anybody to get stuff done, and I really admire that.
I hate waiting around for people to get stuff done, or to help grow my brand, or waiting around to do things that are going to help grow my brand. Lately, I've just been seeing him every single day just churning out new designs, new made-to-order stuff.
I think that's a really cool way to grow your brand because you can make new stuff every day if you really want to, and get it into the hands of people, and that really helps grow your brand.
Seeing his dedication to it every day… he's not asking for nothing, and that work ethic is really what I'm super excited about, and proud of. And I feel like that's going to help him grow a lot.
View this post on Instagram
I always love what Anwar is doing. He's been around forever. He's one of the first dudes that I always looked up to looking in at Fairfax because he's always been so ahead of everybody.
I love Anwar for the way that he's able to maneuver through the collaboration space. He can collaborate with Sketchers, and the next day, he could collaborate with some crazy Japanese brand. It's always very true to his brand, and very true to him. The way that he's able to maneuver through all of that, I really respect, and I admire.
View this post on Instagram
I love Hypland. Jordan is another one of those guys with a big direct-to-consumer fan base, but he's also carved out his own niche in streetwear.
Jordan was one of the first people to start collaborating and using anime licenses. The way that he's been able to do that before anyone was even hip to that stuff, has been amazing to watch. He's done Hello Kitty, and Dragon Ball Z, and I want to say he's done Pokemon, and just a bunch of that type of stuff.
When he first started doing all of that stuff, no one was really using that lane. For him to carve out his own lane within streetwear by making all of those licenses cooler, is really cool.
It's not like stuff you'd see at a merch store, or a Walmart or whatever. He's just making that stuff cooler with his spin, and I think that's really admirable, and he's kind of set the trend now.
Everybody's trying to do stuff like that, and I really respect that he did it before everyone. And his business is huge. He does really big activations with those licenses, I think that's super cool.