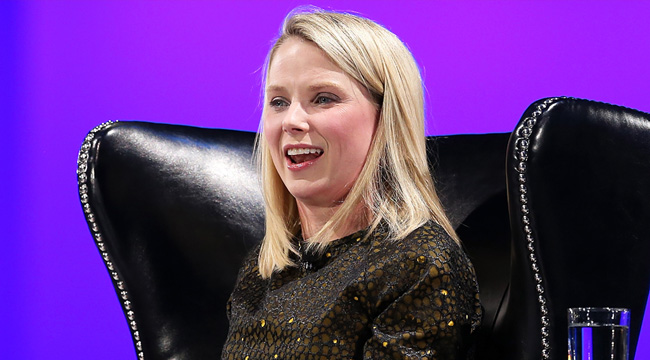 They say you can never go home again, but you can get back into your old email account. Former Yahoo CEO Marissa Mayer, who resigned Tuesday in the wake of Yahoo's purchase by Verizon, reportedly can't wait to start using Gmail again. After all, she had far greater success helping to design Google's email platform than she did in turning around its beleaguered competitor.
She told the accelerateHER Founders Forum that her email switch is based on her famous pursuit of efficiency, explaining, "I look forward to using Gmail again. Am always faster when using a tool I designed myself."
Mayer was hired by Google straight out of Stanford when the company was still in its infancy. Through a combination of smarts and her legendarily long hours at the office, she quickly became a star of the company and was instrumental in building some of its top products, including AdWords, its text and image search, Google's news feature, and, of course, Gmail. Then, after 13 years at Google, Yahoo's board offered her the CEO slot, hopeful one of Silicon Valley's brightest stars would turn around a series of failures that had taken Yahoo from the top of the pile to the mat.
Unfortunately for both Yahoo and Mayer, her early career momentum stalled out after the switch. She was trailed by Silicon Valley sexism from the beginning, such as the 2012 Forbes article that couldn't resist noting, "Only 37, Mayer is young, pretty, vivacious – and the embodiment of the fresh start Yahoo needs."
Mayer struggled with how her work life balance was perceived, especially after she took just two weeks of maternity leave her first year at Yahoo, and repeated the brief break in 2015 when she and her husband had twins. Some thought her hypocritical for building an in-office nursery for her children while slashing telecommuting options for employees who relied on working from home to juggle their personal and professional lives.
Those were just the criticisms she received as a working mother and female executive. Mayer also came under fire for her famously harsh management style, multiple hacks that left users' personal information vulnerable, and in-house privacy breaches at the behest of the U.S. government. And then, of course, there were the company's revenue struggles. Yahoo never did return to its former glory, no matter how much Mayer tried to plug the company's leaks and get it caught up to the competition.
However, Mayer may not be giving up on Yahoo altogether. She clarified in a few tweets that she'll still use Yahoo and claims to have been quoted out of context.
While it was briefly tossed around that Mayer might stay on at Yahoo through its transition, there's no firm word on what's she going to do next, aside from attempting to maintain inbox zero.