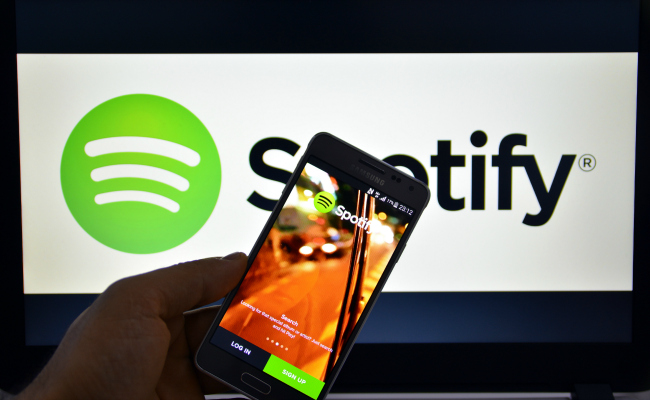 The latest Spotify update also means a new policy privacy, which, like many other social media platform policies, doesn't actually seem that concerned with protecting user tastes and information from prying advertisers' eyes.
Those who use Spotify, or any other social music streaming service in this day and age, probably know that their experience won't actually be that private, or that their user habits won't be sold to advertisers. Still, as Gizmodo points out, Spotify is seemingly taking this privacy-actually-no-privacy thing one bridge too far. For example, Spotify won't just collect information about your location when you open their app, they also want to collect your "sensor data," such as "data about the speed of your movements, such as whether you are running, walking, or in transit." Creepy.
Along with storing your financial data, Spotify says that you authorize them to share it in this particularly yell-y part of their policy language:
BY ACCEPTING THE PRIVACY POLICY, YOU EXPRESSLY AUTHORISE SPOTIFY TO USE AND SHARE WITH OTHER COMPANIES IN THE SPOTIFY GROUP, AS WELL AS CERTAIN TRUSTED BUSINESS PARTNERS AND SERVICE PROVIDERS, WHICH MAY BE LOCATED OUTSIDE OF THE COUNTRY OF YOUR RESIDENCE (INCLUDING COUNTRIES WHICH DO NOT PROVIDE THE SAME LEVEL OF PROTECTION FOR THE PROCESSING OF PERSONAL DATA AS THE COUNTRY OF YOUR RESIDENCE), THE INFORMATION PROVIDED BY YOU TO SPOTIFY, EVEN IF SUCH INFORMATION IS COVERED BY LOCAL BANKING SECRECY LAWS.
Spotify also wants to disclose your data to foreign countries that have more lax privacy laws, which may be a clause in most privacy policies that I will definitely look out for from now on.
And, last but not least, Spotify might try and access your contacts, photos and media files on your phone, with your permission, of course, and that of your contacts.
This almost makes me want to pay for Apple Music, if their privacy policy is even marginally better, but, apparently, this all has a purpose. In a statement to Gizmodo, Spotify says, "The data accessed simply helps us to tailor improved experiences to our users, and build new and personalized products for the future. Recent new features include Spotify Running, which matches the BPM of your music to the pace of your run, or the new Discover Weekly feature, which curates a weekly playlist based on your tastes." Alrighty, then.
(h/t Gizmodo)