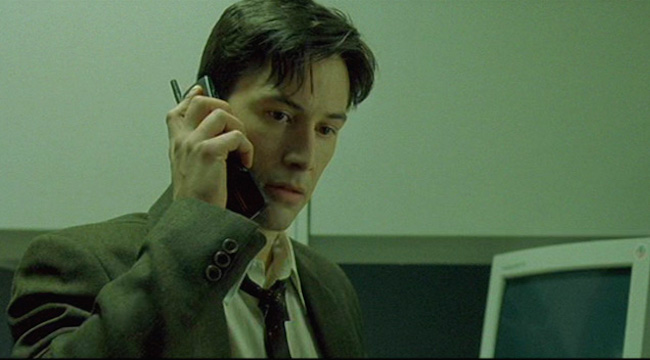 It's not quite the same as busting out bullet time whenever you like, but at least you don't have to be a human battery to get this iconic bit of Matrix tech.
HMD Global (a start-up with a number of former Nokia folks) trotted out a number of new items and announcements at a Barcelona press conference on Sunday and among them was the very brand new you're retro reveal of the Nokia 8110 4G. The phone's predecessor originally launched in 1996 and has a special place of cinematic glory thanks to Keanu Reeves using one in The Matrix. Here's a visual aide as a refresher.
Infamously known as the "banana phone' in some circles, CNBC reports the new take on the geek chic phone retains the style of the original model while being equipped for 2010s life with 4G internet. The company sees the phone as representing different things to different markets.
"Nokia had these very iconic design legends and different people remember the 8110 for different reasons — but, certainly it's a lot about that emotional factor," said HMD Global CEO Florian Seiche. "But, actually it is also in Western markets, it's more as a lifestyle secondary phone and bringing it with 4G and Wi-Fi and some key apps people use everyday, it can now be a true secondary device. But in some of the emerging markets, it is still a primary device."
At present, the Nokia 8110 4G is set to arrive in May with an announced price tag of 79 euros (roughly $97). You'll likely have to seek out the Rob Zombie remixes and Joe Pantoliano interactions yourself, though.
(Via CNBC)