Programming note: Pardon us while we take a minute to indulge in some shameless self-promo to highlight the work of our talented co-workers/colleagues at Uproxx.
"When you have the right tools, it's fun to not always do things the easy way," says Bridger Nielson, flashing a smile.
Nielson acted as the director for The Shadow, an Uproxx-produced short that went live on YouTube yesterday, just in time for the pre-Halloween buildup. At first glance, the film looks like the sort of project that would be completed in the editing bay. After all, we're used to seeing actors sprint across green screens, running from unseen dangers that will be added in post-production. But Nielson didn't just want to create a short film, he wanted an event.
Instead of finishing the film in post-production, it was captured live, right smack in the middle of the famed Art Walk DTLA. Nielson and his team shut down an entire city block for filming, with a score performed in-person by DJ Sweater Beats. Pulling those elements together is a tall order. This wasn't just filmmaking, it was performance art — reliant on the interplay between an actor and the towering monster chasing behind him. The monster itself was projected onto the wall of a massive warehouse so that onlookers passing by (and the crowds gather quickly when you have a snarling demon standing in the middle of Los Angeles) could watch and marvel at this union of tech, music, and filmmaking.
"I love Halloween," Uproxx publisher Jarret Myer explains. "It's when the most creative people really go crazy. They show off what they can do and everyone is excited to celebrate them. So when we decided to connect this project to that holiday, it meant we really had to go big."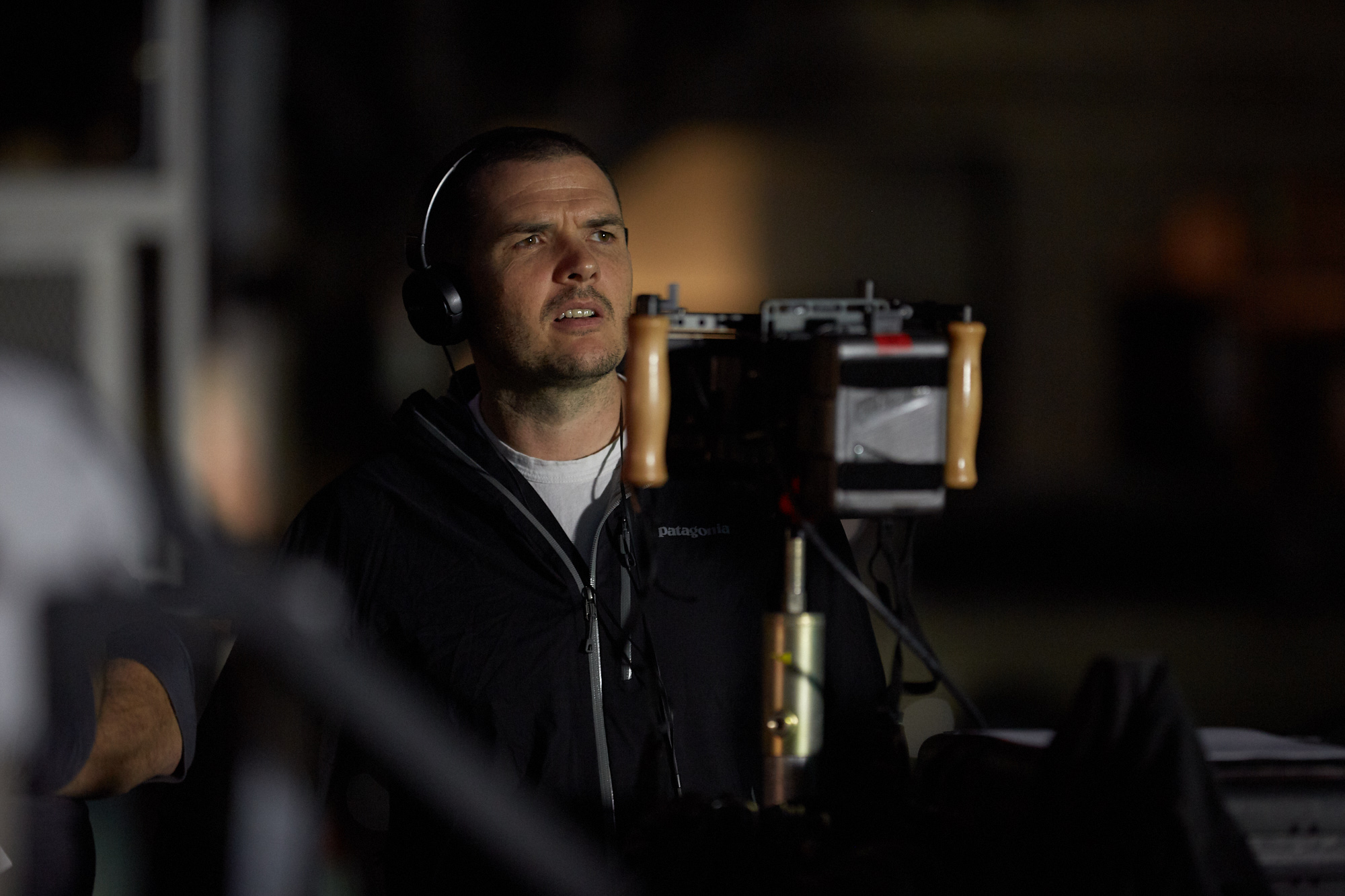 To pull off the live shoot, Nielson and the team at Brooklyn-based digital projection firm Optical Animal set up a bank of projectors aiming at the walls of a downtown warehouse. The wall itself was bare, but the crew layered graffiti, windows, street lights, and some natural cracks and fissures into the opening projection — to give the setting a sense of texture. Next, an actor stepped into frame dribbling a basketball.
As the tension rises during the short, a projected monster and the live actor interface. They move in strange symmetry, bonded together. The visual effect is of someone trying to outrun his own shadow, which grows increasingly terrifying as the scene progresses. In this story, the monster wins — reminding us that we can never escape our shadows or the darkness that we try so hard to hide from (death stalks us all, friend). Over the final climatic frames, the actor is snatched by the beast.
During this sequence the actor is no longer live — we're seeing a projection, but the effect is seamless. And startling.
"If something fell down, it was all going to fall down," Nielson says. "We engineered it in the mindset that people on the street would be watching for tricks or visual cheats and we wanted to inspire them and give them a sense of magic."
Watching The Shadow, the viewer gets a sense of that magic. There is something spontaneous happening. Something that's being created "in camera" as Nielson says, rather than back at the office by an editor. Though the crowd never appears, there's a "live show" energy buzzing — surely pushed forward by DJ Sweater Beats, in his first short film scoring project.

"I feel like this piece capitalizes on that innate human feeling that there's always something following you, always something behind you… even if it's just your own shadow," says Max Nova, co-creative director at the Brooklyn-based projection mapping firm Optical Animal.
Nova and his team took the work of Uproxx's animators to create the projections seen in The Shadow. Meanwhile, Sweater Beats layered in sounds to try to capture the feel being created.
"It a very spooky, dark little narrative," DJ Sweater Beats explains. "That's the whole inspiration for the music I've made."
Jarret Myer couldn't be happier with the final result. "My entire career I've been trying to create experiences that will leave people absolutely immersed in a feeling. That's what we have here — a fusion of music, art, filmmaking, tech…"
He smiles, reflecting at this massive mashup of techniques and styles before pressing play on the video again.
"Those sorts of experiences are where culture lives. That's the whole point of being creative."
See the final The Shadow short below.