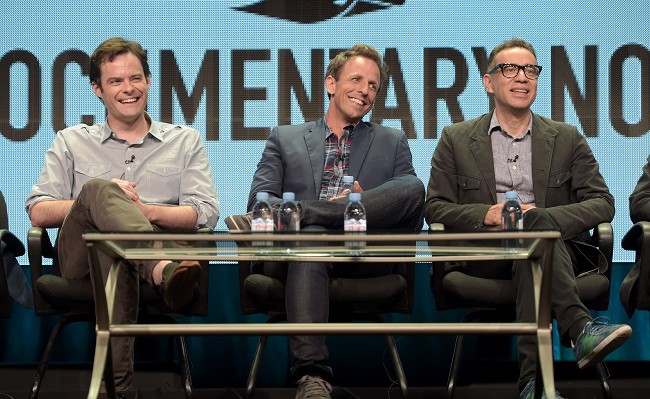 Fred Armisen, Bill Hader, and Seth Meyers have been promoting their amazing-looking IFC mockumentary series Documentary Now! for a few weeks and they stopped by Howard Stern's show to talk about the storied place that brought them together: Saturday Night Live. Stern specifically asked if anyone could do an impression of the show's creator Lorne Michaels and wouldn't you know it, they all had an impression right there in their pockets. You can listen to the segment on SoundCloud:
Stern has a fun way of pulling crazy, uncomfortable information out of people, too. You might recall that he got Meyers to talk about Norm MacDonald discussing Eddie Murphy's appearance at the 40th Anniversary Special. This time, to make him feel even more awkward, he asked Meyers to do an impression of his current boss (Michaels executive produces his late-night show as well as Documentary Now!) right before asking him if he's being groomed to take over SNL. But Meyers assured Stern and his audience that Michaels was probably never going to die and, therefore, no one was going to take over his job.
I swear, Stern is like the girl you never want to invite to your slumber party when you think all your friends have entered puberty and you're still stuffing your bra. And he isn't mean about it, but he will get you to admit the truth and then tell everyone he can find about it. But you have to respect that a little bit.
(via The Howard Stern Show)