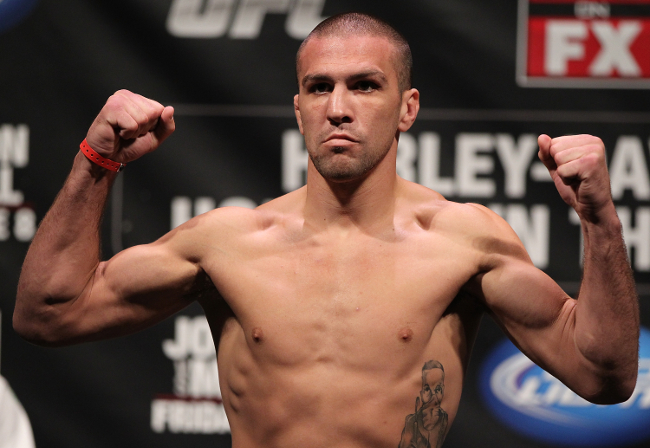 Last time we watched Josh "The Dentist" Neer try to pick up his 37th career win, he took on Paul Bradley at Bellator 129. Bradley took a unanimous decision and left Neer still seeking that win, but he's currently enjoying what the kids like to call "winning the Internet," because a viral video from Neer's gym in Iowa shows him doing something that so many of us have wished we could do in the past. According to Neer, as told to Bloody Elbow in an official statement, the 14-second video shows Neer beating the hell out of Patrick Martin, a stranger who had been talking a lot of sh*t to him and others on Facebook.
Ultimately, Neer became fed up with the insults and threats, and despite being just 5-foot-11 and 170-pounds, he invited this reportedly 6-foot-6, 270-pound stranger to his gym yesterday to settle things once and for all.
"Basically the guys a dumbass and been talking shit about MMA fighters for a month. On and on, I usually ignore him but this Saturday he wrote me on Facebook the message i gave. He had written 10 messages to me talking shit which I ignored, but this time I said if you really want to fight come to the gym Monday at 5:30.

I don't know what his problem is but he's a big guy, like 6-6 and 270 pounds and just acts like a bully. That what he seems like to me, just a bully.

He showed up at 6:10, 40 mins into my practice. And then I asked him if he wanted to fight Rakim or me and Rakim is bigger then me so of course he chose me." (Via Bloody Elbow, which also included images of the Facebook message Neer is referring to)
On one hand, you know what I do when I get nasty messages, tweets or comments online? Ignore them. On the other hand, what kind of 6-foot-6, 270-lb. dude picks the guy who is 100-pounds lighter to fight? On the third hand, you at least have to give the guy credit for actually showing up to keep his tough guy routine going. On the fourth hand, because this is Goro from Mortal Kombat counting, you could say that all of this is trivial and immature, and people should have better things to do with their lives than troll each other and fight like animals. But I guess if the guy wants to be big and tough, let him be humbled in the old country way.
Also, if you're going to show up to fight (and keep talking sh*t after the fact), make sure there's a ref involved, because this does not look like it was fun.
HOWEVER, Martin has since claimed that while this video indeed shows him taking an onslaught of elbows and a cheap kick after the separation, he actually won this impromptu fight. He's also offering Neer a rematch for another shot at a fair fight.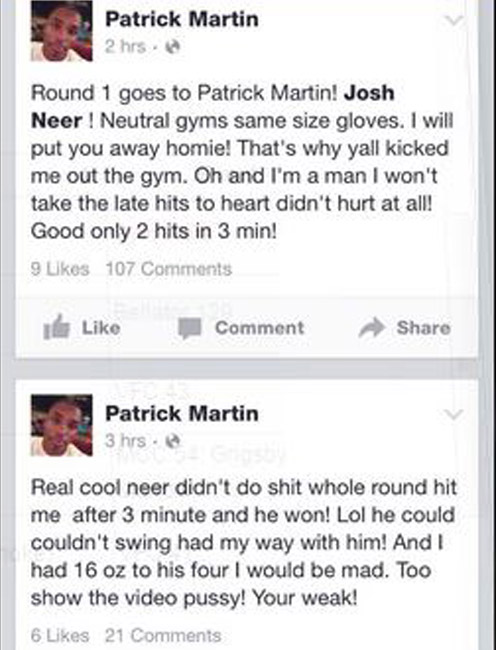 In all brutal honesty, this might be more exciting than any Fight Pass prelims I've watched lately.