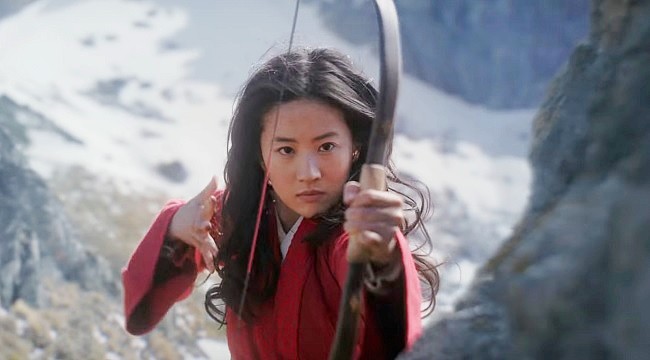 The Hong Kong protest began in June, but in the last few weeks they've gone next level, with clashes between protesters and police growing more violent. Those who've spoken in favor of the police and against the pro-democracy protesters — including Jackie Chan, who's often come out in support of mainland China — have been met with sharp rebukes over social media. On Thursday, actress Liu Yifei, star of Disney's forthcoming live-action Mulan remake, weighed in on the controversy, and it did not go well.
"I support the Hong Kong police," Liu posted on Weibo, a Twitter-like social media platform in China. "You can all attack me now. What a shame for Hong Kong."
Many on social media took her at her word. As per CNN, the hashtag #BoycottMulan was instantly born. It started on Lihkg, a Reddit-esque online discussion forum in Hong Kong, but it soon spread elsewhere around the globe, including to Twitter, which is banned in China.
The Hong Kong protest began as a push against a seemingly innocuous bill, which was eventually tabled. But it soon ballooned into a larger defense of Hong Kong autonomy, with residents fighting to keep mainland China from completely overtaking the former British colony. The police have been accused of using excessive force to combat protesters, which have numbered somewhere between 340,000 and two million.
As the #BoycottMulan movement has swelled, Liu — who was born in the Hubei province, moved to America when she was eight, and has largely worked in the Chinese film industry — has been accused of supporting police brutality.
Many suggested Disney had to completely redo the movie without its now controversial star.
Others felt bad for Disney employees who woke up to #BoycottMulan still raging.
And many made jokes.
Along with Liu, Mulan — one of many forthcoming Disney redos of their animated classics, this one of a fave from 1998 about a young woman who surreptitiously joins the Chinese army disguised as a man — also stars Donnie Yen, Jet Li, Gong Li, and Jason Scott Lee. It's due in theaters on March 27, 2020, but who knows if that date is still set in stone.
(Via CNN)