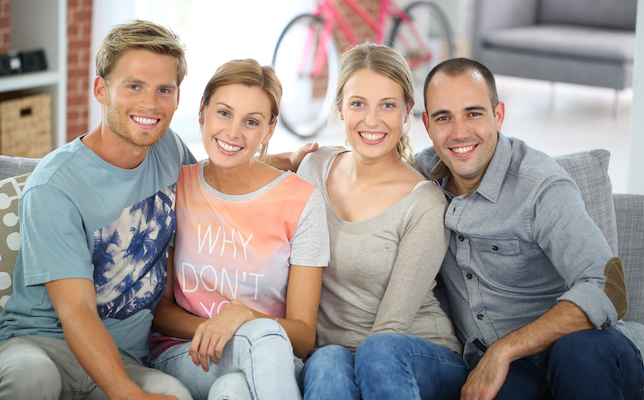 The Startup Castle is apparently one of the best places to live in Stanford, CA (according to its residents), and one of the reasons that it may be so awesome is because each roommate is hand-picked from a pool of hopeful applicants via the most stringent criteria. For $1,750, you get a private room (more if you want your own bathroom), access to a stocked "generosity kitchen," and all the furnishings you could dream of. But you also have to be very, very special to live there.
Here's the list of what this "community of excellence" is looking for in a potential resident, via SU Post:
You must:
– Have a top-class degree or job with a strong math/science requirement
– Exercise at least 15 hours in a normal week
– Commute by car less than 20% of the time (Bicycle commuter!)
– Prefer organized systems and common rules
– Like petting dogs
OK, not so bad, right? Lots of people could fit that criteria and dogs are cool. Haha, you ain't seen nothing yet.
Here's the list of things a potential roommate must not be, do, or have. Any one of these deal-breakers will exclude you from being one of Team Excellence's most valued players:
This may not be the right place if you:
– Watch more than 4 hours of TV/movie/game entertainment per week
– Have more than 1 tattoo
– Have ever attended more than 1 protest
– Make more than three posts a week to social media
– Listen to a songs with explicit lyrics more than an once a day
– Wear make-up more than twice a week
– Own any clothing, shoes, watches, or handbags costing over $500
– Have bills that get paid by somebody else
– Drive a vehicle that was given to you by your parents
– Get regular spending money or gifts from your parents
– Have more than one internet app date per week
– Have a complex diet that requires lots of refrigerator space
– Drink alcohol more than 3 drinks per week
– Use marijuana more than twice a year
– Have been prescribed anything by a psychiatrist more than once
– Use any other drug more than twice in your entire life
No Netflix???
Not gonna lie: no matter how many cute dogs these folks have for you to pet, it sounds like rooming with them is the equivalent of living with the most uptight of your acquaintances: the one who color-codes their books and won't purchase a CD if it has a parental advisory warning. You know what? The entire universe will take a pass.