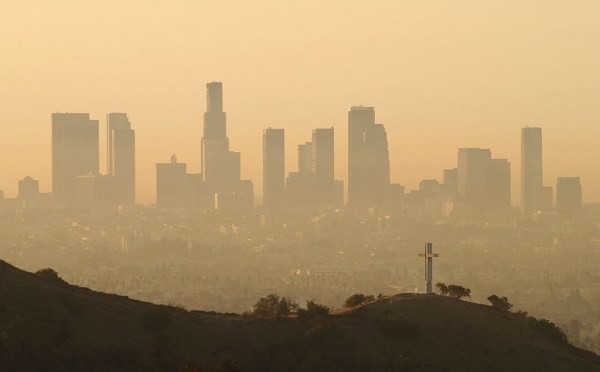 California might be leading the nation when it comes to some ways to better our lives , but breathing clean air isn't one of them. According to a recent study done by the American Lung Association, 166 million Americans are currently being exposed to unhealthy amounts of ozone and particle pollution with California cities topping each list. So which California city has the most pollution? That dubious honor goes to Los Angeles. LA has the highest ozone levels. Coming in a close second is the birthplace of '90s Nu Metal, Bakersfield, CA. Bakersfield has the most year round particle pollution and short-term particle pollution.
When it comes to short-term particle pollution, 6 out of 10 cities are located in California and 7 out of 10 are Golden State cities when discussing year-round particle pollution. Basically, it doesn't matter if you're a Dodgers fan or a Giants fan, you're all breathing the same horrible air. The LA Times stated that 80% of people in California are affected by unhealthy levels of air pollution. California does have In-N-Out Burger so that must make up for something, right?
Where do you need to go so your lungs can be happy? If you like to surf you can head to Honolulu, Hawaii or if you would rather ski you can move to South Burlington, Vermont. Elmira-Corning, New York and Salinas, California (California isn't all bad!) are also the only cities in the study that did not have a single day of unhealthy ozone levels.
(Via: American Lung Association)