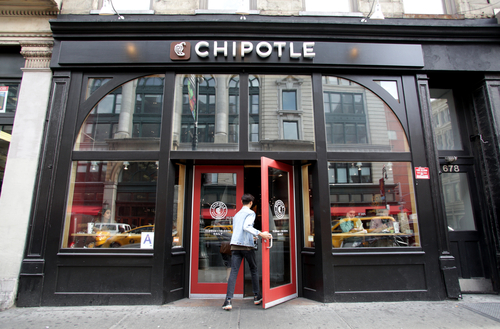 Chipotle has been having itself a pretty rough year. After a series of E.coli outbreaks and some odd criminal activity done by one of its executives, the brand could use a win. But it looks like that pat on the back is still aways away. A recent report from Morgan Stanley found approximately 25 percent of Chipotle consumers have either stopped going or have trimmed down their frequency.
It's a blow to Chipotle, who has done their best to earn the goodwill of their customers back. But it looks more free burritos won't quell consumers safety concerns. The report found "that the sales recovery will remain more protracted than the market believes," meaning they may continue to get some bad press for a while. And it looks like that will be tough as 25 percent of consumers have said they are finding better alternatives.
For its part, Chipotle has done everything under the moon to try to win back its customers. Free good giveaways, a new chorizo menu item and loyalty program are just a few of the marketing ploys the brand has used. But they seem to be of no use as 80 percent of those who were surveyed by Morgan Stanley they would go to Chipotle with or without a coupon.
To add insult to injury, a separate report from investment bank William Blair found food safety concerns for the brand are at the lowest they have been in 2016. Tough break for a brand that was on top of the world a few years ago. They may have to wait for public concerns to dissipate in order to reach the top of the mountain again.
(via Eater)