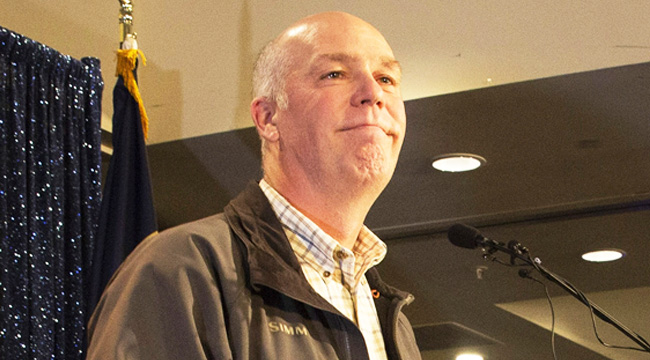 On the day before Montana's special U.S. House election in May, Republican candidate Greg Gianforte was asked a question about health care by The Guardian's Ben Jacobs. Going against tradition, Gianforte ignored the question and body-slammed Jacobs. Gianforte won the election the next day but also faced charges from his assault on Jacobs. In June, Gianforte was sentenced to community service and anger management classes and ordered to pay various court fees. In exchange for Jacobs not suing him in civil court, Gianforte apologized and agreed to donate $50,000 to the Committee to Protect Journalists.
At the sentencing, Jacobs said he accepted Gianforte's apology and hoped to interview the Montana representative when he came to Washington. Gianforte was sworn in on June 21 and received a request for an interview on June 22. It still hasn't occurred despite months of back-and-forth between the parties. The Washington Post points out that it's all down to semantics:
The key to understanding this impasse lies in wording. Jacobs expressed an interest in an interview; Gianforte expressed an interest in "sitting down" for a "meeting" — something that you can do without agreeing to an interview. A body slam, a false statement, not to mention the failed Republican attempt to repeal-and-replace Obamacare: These are all issues that Gianforte would presumably prefer to address off the record or not at all.
Prior to being sworn in, Gianforte was interviewed by the Associated Press and repeatedly mentioned that he had apologized to Jacobs and was looking to move on.
Jacobs tweeted his own response to Gianforte's latest brush-off and concluded that the body-slam was an indication of Congressman's true character — a continued pattern "of avoiding responsibility of his actions."
Jacobs ends his statement with the hope that Gianforte won't assault him again should they cross paths in the halls of the Capitol Building. What a time to be alive.
(Via Washington Post)