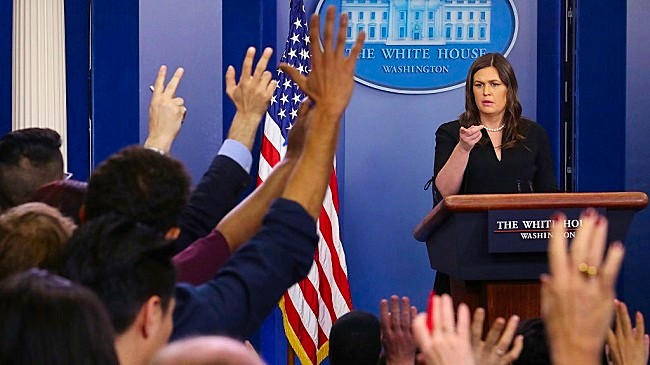 According to a new report in Bloomberg Law, the Department of Homeland Security put out an interesting request for contract work recently. Specifically, the department wants to hire someone, or some group, to monitor journalists and media organizations in the United States and around the world. Why? In order to compile a databases of said journalists and organizations, as well as bloggers and so-called "media influencers." Among other things, Homeland Security wants to create and maintain such a database so that it may assess the individual and group "sentiment" of those it catalogs.
Per an official statement, "DHS wants to track more than 290,000 global news sources, including online, print, broadcast, cable, and radio, as well as trade and industry publications, local, national and international outlets, and social media." What's more, they want "to track media coverage in more than 100 languages including Arabic, Chinese, and Russian":
"Services shall provide media comparison tools, design and rebranding tools, communication tools, and the ability to identify top media influencers," according to the statement. DHS agencies have "a critical need to incorporate these functions into their programs in order to better reach federal, state, local, tribal, and private partners," it said.

Additional documents indicate that the main impetus behind the request is Russia's meddling in the 2016 election, as well as the prominent part played by "fake news." That Sen. Ted Cruz (R-Texas), Reps. Josh Gottheimer (D-New Jersey), Lee Zeldin (R-New York), Ron DeSantis (R-Florida), and 15 other lawmakers sent a letter to Attorney General Jeff Sessions requesting that the Qatar-based news agency Al Jazeera be registered as a foreign agent also played a part in the DHS contract. However, according to Bloomberg Law's assessment of the documents, they don't solely highlight foreign media.
The "media influence database" DHS wants the contractor to build must give users the ability to find "contact details and any other information that could be relevant, including publications this influencer writes for, and an overview of the previous coverage published by the media influencer." And considering the emphasis on "fake news" in the documentation reviewed by Bloomberg Law, it's important to note how often President Trump uses that particular pejorative term — and how much he loathes the press in general. He is, after all, skipping the White House Correspondents' Dinner for the second year in a row.
(Via Bloomberg Law)