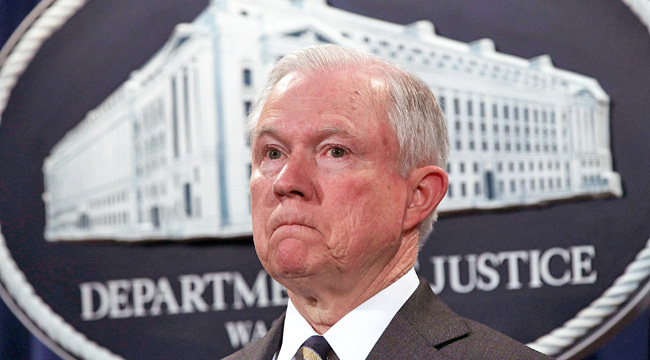 As the Russia probe heats up and strikes increasingly close to home, President Trump has continued to bear down on his current scapegoat, Attorney General Jeff Sessions. Despite Sessions' loyalty to Trump and the care he has taken to demonstrate his support for the administration's position on a variety of issues, his recusal from the Senate's investigation into possible collusion with Russia by the Trump campaign has soured the President's view of his ally. Now, the attorney general has reportedly been pushed past his limits and is furious with the President.
"He's not going anywhere," said one of Sessions' supporters to the Daily Beast. "He is not going to resign. What he is accomplishing is way too important to the country." This echoed Sessions' own response to President Trump's recent tirades. Sessions made a subtle response to Trump's comments in a New York Times interview that he "regretted" appointing the Attorney General:
"I have the honor of serving as Attorney General. It's something goes beyond any thought I would have ever had for myself," he said to the press. "We love this job. We love this department, and I plan to continue to do so as long as that is appropriate. We and this Department of Justice will continue every single day to work hard to serve the national interests, and we wholeheartedly join in priorities of President Trump."
But that even rhetoric had nothing on what one person close to Sessions suggested he's saying behind closed doors, according to the Daily Beast:
"Sessions is totally pissed off about it," said the source with a clear sense of Sessions' views on the Trump's attacks. "It's beyond insane. It's cruel and it's insane and it's stupid."
That comes after rumors that Trump wants to appoint Ted Cruz in Sessions' place and another volley of comments that Sessions is "beleaguered" and "very weak," perhaps as a preamble to firing the Attorney General. It's not just that Sessions recused himself that has Trump riled up. The recent revelation that Sessions might have talked shop with a Russian ambassador about the Trump campaign hasn't helped matters, nor has the Senate's request that Don Jr., Jared Kushner, and Paul Manafort must testify before committees. In other words, this isn't over yet.
(Via The Daily Beast)