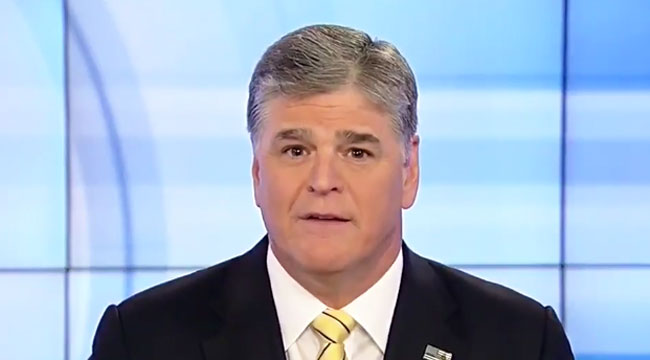 Longtime Trump personal attorney Michael Cohen appeared in a Manhattan courtroom today in connection with the FBI's recent raid on his office and hotel room. Stormy Daniels' lawyer also told outlets that she would be in attendance, but the bombshell headline that has already emerged has nothing to do with the porn star. Rather, the judge forced Cohen's lawyer to name his so-called "secret" third client (who apparently requested anonymity), and the answer to that question would apparently be …. Fox News host Sean Hannity.
The Associated Press saw fit to tweet the news before issuing a report, and as Bloomberg notes, Hannity confirmed to the Wall Street Journal's Rebecca Ballhaus that the in-court statement was true. "We have been friends a long time. I have sought legal advice from Michael," Hannity stated. And CNN further reported that Cohen's legal team "only revealed Hannity's name after the judge ordered them to."
Of course, Hannity's previous preference to remain anonymous, coupled with Cohen's reputation as a Trump "fixer," makes one wonder exactly why he represented the Fox News host. This is especially the case since Cohen not only arranged for but personally paid Stormy Daniels' settlement over her alleged Trump affair (which may have been a campaign finance law violation). In addition, it was recently revealed that Cohen represented ex-GOP fundraiser Elliot Broidy while he settled his own affair with a Playboy model for $1.6 million. With that background in mind, this joke is running wild on Twitter.
And Hannity's own daily radio program had a rough start today.
UPDATE #1 – 4:00pm EST: Despite Cohen's lawyer's statement in court, Hannity has now issued a pair of tweets to claim that Cohen never formally represented him as a paid attorney. Instead, Hannity insisted, "I have occasionally had brief discussions with him about legal questions about which I wanted his input and perspective." Further, he said, "[T]o be absolutely clear they never involved any matter between me and a third-party."
(Via Associated Press, Bloomberg, CNN & New York Times)