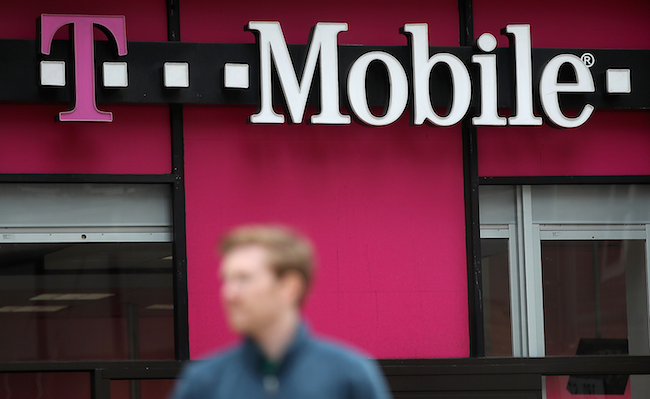 It's been a rocky trip to the altar, but T-Mobile and Sprint have finally agreed to tie the telecommunications knot. Have your cards, rice and concerns about the current mobile oligopoly at the ready.
According to Variety, the combined company is valued at $146 billion in this merged form. Previous attempts to bring the two wireless titans together saw some difficulty with talks called off in November 2017, but those issues appear to be resolved.
Sprint CEO Marcello Claude and T-Mobile CEO John Legere confirmed the pact in video form. Both men are wearing t-shirts featured the logo of their respective company to provide a helpful visual guide on the off-chance Marcello Claude isn't splashed across the cover of your local supermarket tabloids. (He's not.)
The combined venture will be known as T-Mobile, which no doubt raises questions about the future of Sprint being used as a brand once/if all is approved by the majority owners and public shareholders. The deal is expected to be officially closed in early 2019 provided there aren't any hiccups. (Hiccups like getting the merger cleared by regulators, which is no small feat in a shrinking mobile marketplace.) T-Mobile's current COO Mike Sievert has been tapped to serve as president and COO for the new era of the company. Sprint CEO Marcello Claude will be on the company's board.
The merger is being pushed with an emphasis on the need to accelerate 5G innovation within America. The two companies aligning forces also signals an attempt to battle the nation's No. 1 (Verizon) and No. 2 (AT&T) most popular carriers by mushing together the No. 3 (T-Mobile) and 4 (Sprint) carriers. Provided the deal gets approved, 2019 is shaping up to be a competitive year in the American wireless market.
(Via Variety)