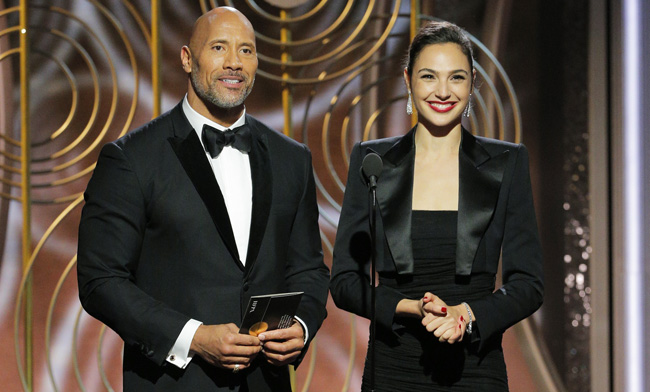 New excerpts of a paperback book edition by Bloomberg reporter Joshua Green, Devil's Bargain: Steve Bannon, Donald Trump, and the Nationalist Uprising, are shedding some new light into the fascinating dynamic between Donald Trump and his ousted White House chief strategist Steve Bannon. One particularly interesting passage of note is how Bannon predicts that the rise of Trump is going to usher in an anti-patriarchy movement, which we're already seeing with #MeToo and Time's Up.
Speaking of which, Bannon had some thoughts on Oprah Winfrey's impassioned Golden Globes Cecil B. DeMille Award acceptance speech, which triggered rumblings of a possible presidential run. Another celebrity said to be vying for the White House, Dwayne "The Rock" Johnson, also happened to be sitting in the audience. When the camera cut to Johnson, he was clearly moved by Oprah's speech, if you'll recall:
Bannon wasn't so much impressed by Johnson's reaction however, and apparently even went so far to suggest that it spells doom for his career:
"He's ruined his career," Bannon said, according to Green. "If you rolled out a guillotine, they'd chop off every set of balls in the room." He also ruled that Oprah, should she decide to get involved in the 2018 midterms, could pose a legitimate threat, ushering in a wave of activism that could assist Democrats in taking back the House of Representatives.

"You watch," Bannon is quoted as saying. "The time has come. Women are gonna take charge of society. And they couldn't juxtapose a better villain than Trump. He is the patriarch. This is a definitional moment in the culture. It'll never be the same going forward . . . The anti-patriarchy movement is going to undo ten thousand years of recorded history."
Another interesting excerpt suggests that Bannon was playing the long game (as if that wasn't already fairly obvious), possibly setting himself up to succeed Trump when he inevitably quit or was impeached.
"But Bannon had thought hard enough about a path to the White House that he'd even toyed with starting a new political party and settled on a name: the National Union Party. That was the temporary name that Abraham Lincoln and the Republican Party had adopted in 1864 to attract War Democrats and Unionists. In Bannon's vision, it would now unite disaffected populists on both ends of the political spectrum. With support from financial benefactors like the Mercer family, he seemed to imagine such a path might be viable, and that a true devotee of right-wing nationalism — rather than a charlatan like Trump—could succeed where his predecessor had failed."