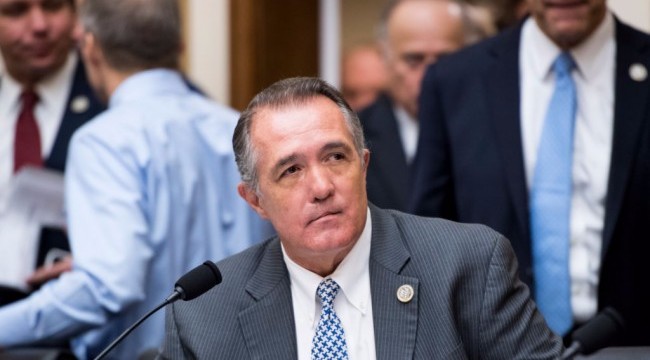 After staunch Republican Congressman Trent Franks announced unexpectedly that he would be resigning, many assumed that it would be over sexual misconduct allegations. No one could have predicted that Franks' misconduct was asking two female congressional aides to be surrogates for him and his wife. As soon as Franks announced that he would be resigning effective immediately, the other shoe was expected to drop — and drop it did.
According to the Associated Press, Franks "repeatedly pressed" one of the aides ("at least four times") to carry his child and even offered her $5 million at one point to be a surrogate. Franks maintained though that "he had never physically intimidated, coerced or attempted to have any sexual contact" with any members of his staff.
However, according to Politico, Franks' actions were less than honorable during these interactions:
The sources said Franks approached two female staffers about acting as a potential surrogate for him and his wife, who has struggled with fertility issues for years. But the aides were concerned that Franks was asking to have sexual relations with them. It was not clear to the women whether he was asking about impregnating the women through sexual intercourse or in vitro fertilization. Franks opposes abortion rights as well as procedures that discard embryos.
One woman said that she was the target of retribution from Franks after telling him no. Another former staffer said the Congressman "tried to persuade a female aide that they were in love by having her read an article that described how a person knows they're in love with someone."
Franks denied this fresh round of allegations through a spokesperson.