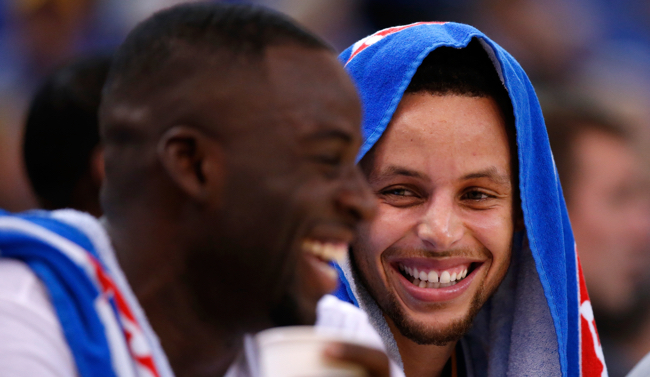 Welcome to "Basketball, Neat." This is an intermittent column throughout the 2015-16 NBA season where DIME will discuss some basketball play or trend without extraneous information.
If you're a fan of single-malt Scotch, you should be familiar with ordering a drink, neat. That's what this is, but with basketball. So there will be none of the usual contextual or superficial noise you might hear on Twitter or even in our pieces at DIME. This isn't some referendum on basketball coverage or anything quite so lofty; it's just a tiny place to talk exclusively about hoops. We'd like to nerd out about basketball for a little bit before we go back to the overarching culture of basketball and the NBA we normally cover. We hope you like it, but it's primarily just a selfish way to publish what we're already talking about with each other.
Perhaps the only downside to Golden State's 10-0 rampage to start the season is the belief that it's simply attributable to Steph Curry's smoldering jumper. But while Curry's assault on our senses may be redefining what a player his size is capable of affecting, he's able to cause so much destruction because the personnel around him is perfectly calibrated to his strengths, and no teammate is more perfectly constructed than Draymond Green.
The undersized power forward and small-ball center is more well-known for his defense and his mouth, but he's become an overall force just as capable of hurting other teams with the ball in his hands as he is sniffing out what the opposition is going to do when they're trying to drop that ball through his team's basket.
Never is his primacy as a playmaker more apparent then when he's teamed with Steph on those high screens that have become impossible to defend. It's precisely because of how impressive Green has gotten when he receives the pass from Steph with a little space before reaching the defense's backline that's turned them into the most effective duo in the NBA (at least with a minimum of 200 minutes together so far this season). After Curry's shooting forces opposing teams to try and play a 4-on-3, Green has become a master at leading the resulting one-man advantage in the cramped confines of a half court.
Spencer: Green has morphed into such a comfortable release valve when defenses spring the second defender to hedge on his high screens for Steph. As any Steph studier knows, if the opposing big doesn't hedge, and hedge hard, this can happen:
https://giant.gfycat.com/HollowFamiliarHummingbird.gif
This double screen is just as effective because of Steph's range:
https://giant.gfycat.com/AnchoredFemaleEmeraldtreeskink.gif
So when you're about to face the Dubs, what do you do? Opposing coaches are willing to let the big defender show, in an effort to trap Curry so he's forced to pass the ball. It's similar to what the Heat did during their blitzkrieg days when LeBron was in town, but those Miami teams could get away with it because Chris Bosh was fast enough to get back to the roll man, Shane Battier could bang with opposing fours and LeBron and Wade could poach panicked passes out of that double team to get their transition game working.
But not every team in the NBA can play like that, and usually, Green is the benefactor of this strong show to stop Steph. When that happens, Dray has learned exactly what he can get with the resulting 4-on-3. Usually he attacks the cup, and good things happen because the defense is already uncomfortably bent beyond the three-point line towards Steph.
https://i.giphy.com/QP2FKvNwnxBOE.gif
But making that play is really hard to do, especially when you consider Green is a legit NBA big, someone who can play more than a few minutes at center in those sprint-heavy small units. (If Green couldn't really battle opposing centers, and adequately clean the glass, it would nullify the advantage completely.)
So how hard is it to make that pass, Jack? I could count on one hand the number of power forwards who can make that sort of decision on the fly with the ball in their hands and Dray might even be the best. Preach.
Jack: Even semi-regular readers know how we feel about Green at DIME. He's one of the several most versatile players in basketball, and the league's best team leverages his incredibly unique two-way gifts to their absolute maximum. Curry is Golden State's best player, but there's an argument to be made that Green is its most valuable – and not just because he's capable of defending all five positions on the floor.
The modern game is all about space. Teams with big men who legitimately stretch the floor pose a far bigger and more consistent threat to defenses than others, but have also become something close to a majority. Hell, guys like Khris Humphries, Jared Sullinger, and DeMarcus Cousins have emerged as prolific and productive three-point shooters in this season's early going; bigs with shooting range are the new norm.
In 2015-16, there's a different type of interior player that has usurped the stretch 4 as an offensive trump card, and Green is its prototype.
Who's the only other true big man who could make that lob pass to Festus Ezeli while holding his own in the paint and on the glass? Blake Griffin. Unlike his Warriors rival, though, the Los Angeles Clippers superstar has evolved into a playmaker. Green was born one, and he makes that reality abundantly clear several times per game.
How many point guards in the NBA would even see a pass like this one, let alone complete it?
https://i.giphy.com/w8a7EFhT0lbna.gif
The layers to that basketball beauty are nearly endless, and begin – as Spencer so succinctly explained – because Curry has to be hugged by any defender every time he passes half court. But the nuance and subtlety Green exhibits here is just as influential to the play's outcome.
First he holds his screen and backs up into Zach LaVine, forcing Nemanja Bjelica's full attention to the ball and allowing Curry to pull the Timberwolves' defensive string to its limit. Then, he steps beyond the arc and receives a pass from his point guard as the defense frantically tries to recover. Green notices that both Bjelica and Shabazz Muhammad – who's guarding Shaun Livingston one pass away – converge as he mimes launching a triple, and immediately knows what will happen next.
Livingston cuts behind Muhammad, and he's moving through a seam between Bjelica and Muhammad that would give Golden State an easy two. Getting that basket only requires a player that routinely and effectively guards Dwight Howard to thread the needle with a bounce pass between multiple defenders.
Yet Green somehow makes that dish look routine. Still, there are two aspects here that are easily overlooked.
At the beginning of last season, opponents would let the 25-year-old shoot threes without committing him defensive attention – like they do Griffin now. That's a losing proposition these days; Green is shooting 44.4 percent from range in 2015-16. He may not be a Splash Brother, but he's a very real three-point threat from all over the floor. Klay Thompson, on the other hand, is Curry's shooting brethren, and defenses treat him like it. Look where Kevin Martin is standing when Livingston catches the pass from Green:
No, Martin isn't a remotely good defender. This play, though, doesn't represent a mistake by the defense-averse veteran. All teams are forced to commit an extra two steps in Thompson's direction when he's stationed opposite the ball, and the mitigating factors accompanying that strategy are huge for Golden State – especially with a marksman like Curry and passer like Green on the floor with him.
And that's really what people are forgetting about the Warriors right now. Curry is playing like no one we've ever seen and is blessed with a host of talented teammates, but the reigning champs' whole is still greater than the sum of their parts – and the singular influence of Green is chief among the many, many reasons why.
Spencer: That's what both of these next two clips show, with Dray situated in the middle of the floor as the facilitator and Klay and Steph around the arc.
First, he comes down with Klay on his right and Steph on his left. Since Karl-Anthony Towns is a tad late getting back (and he's not exactly Robert Tractor Traylor — RIP — so it shows you how fast the Warriors are when they run), it's a 3-on-2 advantage with LaVine and Martin unable to leave their assignments around the arc. After Bjelica steps up to stop the onrushing Green, Andrew Wiggins is forced to flounder between the trailing Ezeli and Andre Iguodala prowling the left baseline.
https://i.giphy.com/81T4h8kQ5kSVG.gif
Again, that play is not easy to make. Green had to spot Wiggins leaning towards Iggy, and loft a delicate lob over the 6'10 Bjelica before Towns got back, and he had do all that at a half-break pace. But Draymond isn't even given that opportunity if Iggy isn't properly spaced in a passing lane to his left, Ezeli isn't hustling back on his right, and the Splash Brothers aren't the Splash Brothers — capable of spontaneously combusting a leather ball by repeatedly swooshing the nylon and shushing the crowd.
The same thing plays out below, where Green is back in the same familiar pattern: Steph draws the double team above the three-point arc, and Dray catches the ball moving into space with a 4-on-3 advantage that's beautifully spaced. And here's the truly devastating part of this last clip, something that makes every team's advance scouting crew shudder when they see the Warriors up next: the Timberwolves play this as well as they can.
Towns steps up to stop Dray, Wiggins — who is guarding Iguodala — rotates down to Towns' man, Andrew Bogut, and Kevin stays attached to Thompson in the near corner. They do all of this in a split-second, too, so Dray is forced to catch the pass from Steph, take one dribble and make his decision: shoot or pass to one of four teammates.
Because the Timberwolves played everything perfectly, they force Green to show off the superior playmaking we've been venerating throughout this piece. He takes one dribble and immediately flips it to a wide-open Iguodala in the far corner. It's a clean look for Iggy on a short, corner three, and he knocks it down.
https://i.giphy.com/sY8W9Z8ozRsY0.gif
But Minnesota played it well, and Iggy was the most attractive option for them to leave open. And while Klay is so deadly from deep, he holds the NBA record for points in a period and has been known to go supernova just like Steph, he's not actually shooting as well from distance as Iguodala is through Golden State's first 10 games this year (38.6 percent vs. 39.3).
Think about that. Minnesota played that defensive possession to a T, with every young player staying home or rotating exactly as if Sam Mitchell and Kevin Garnett had drawn it up on the dry erase board during the last stoppage in play.
And still, the Warriors got a wide-open three-pointer in the short corner by a guy who is shooting nearly 40 percent from deep. It's downright inconsiderate of the Warriors.
The sum really is greater than the parts for Golden State, even if those parts are incredibly rare and not-at-all interchangeable.