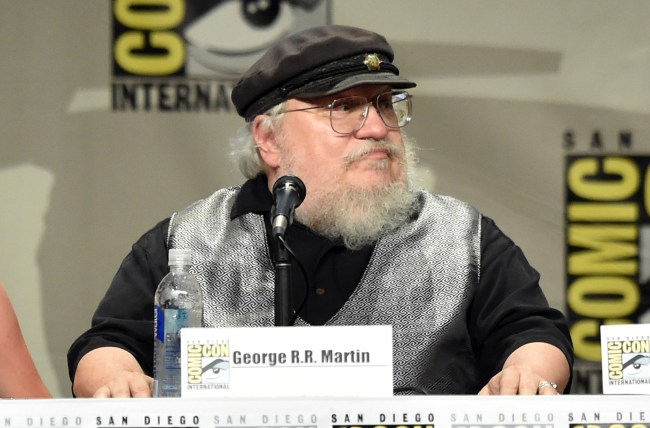 That George R.R. Martin might actually finish the sixth book of his A Song of Ice and Fire series sometime soon gained some steam when he bowed out of this year's San Diego Comic Con. Then Game of Thrones fans imploded with delight when the author released a chapter of The Winds of Winter earlier this week. So, is it really possible?
It is. Martin is really, really trying to get book six out to his publishers, his readers, and HBO audiences who hate the downtime between seasons:
Having The Winds of Winter published before season 6 of Thrones airs next spring "has been important to me all along," says the best-selling New Mexico author. "I wish it was out now. Maybe I'm being overly optimistic about how quickly I can finish. But I canceled two convention appearances, I'm turning down a lot more interviews—anything I can do to clear my decks and get this done." (Via)
The author admits he shouldn't have waited so long to finish The Winds of Winter. Turns out, he could have done it years ago:
Martin says his one regret is not plowing ahead into Winds after finishing 2011's A Dance with Dragons.

"I was red hot on the book and I put it aside for six months" he says. "Iwas so into it. I was pushing so hard that I was writing very well. I should have just gone on from there, because I was so into it and it was moving so fast then. But I didn't because I had to switch gears into the editing phase and then the book tour. The iron does cool off, for me especially." (Via)
What's more, he supposedly has a big twist in mind for his readers — something that, per usual, they're not going to like:
"This is going to drive your readers crazy," he teases, "but I love it. I'm still weighing whether to go that direction or not. It's a great twist. It's easy to do things that are shocking or unexpected, but they have to grow out of characters. They have to grow out of situations. Otherwise, it's just being shocking for being shocking. But this is something that seems very organic and natural, and I could see how it would happen. And with the various three, four characters involved… it all makes sense. But it's nothing I've ever thought of before. And it's nothing they can do in the show, because the show has already—on this particular character—made a couple decisions that will preclude it, where in my case I have not made those decisions." (Via)
Well at least we're (allegedly) getting a new book from Martin by next year. In the meantime, "Weird Al" Yankovic should give him another typewriter and threaten to perform nonstop until the thing is done.
(Via Entertainment Weekly)