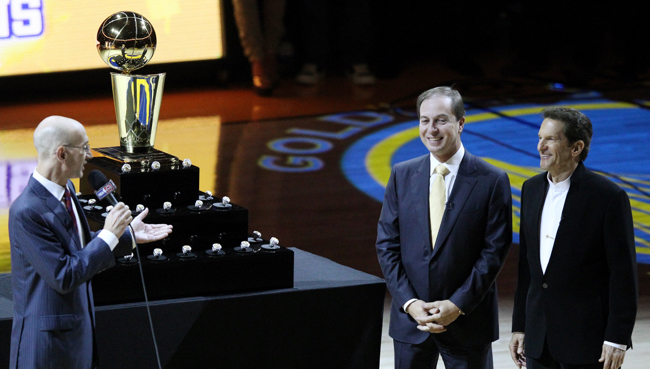 If it's the NBA playoffs, there must be a conspiracy theory burbling in the background. The current conspiracy that has gained traction among a certain strain of sports fans is that the NBA prefers the Golden State Warriors to make the NBA Finals, as opposed to the Oklahoma City Thunder. The crux of this conspiracy revolves around Draymond Green not getting suspended for kicking Steven Adams in the junk, and a silly Facebook mistake by Tickmaster. Adam Silver discussed all of this on ESPN Radio, and, of course, he says there is no conspiracy.
In regards to the Green situation, Silver said, "I will say that we do full investigations around those plays the next day. We interview the officials. We interview the players who are involved, and ultimately we made a decision that he did not intentionally try to kick him in the groin, but it was a reckless act, and it was upgraded to a Flagrant 2." This is a justifiable stance to take, having seen replays of the kick over and over.
As for the conspiracy, Silver said, in no uncertain terms:
"I hear it, and it's the most sensitive issue for me, and it goes to the core integrity of the league and frankly to my integrity. Even from a business standpoint, it would be impossible to predict which Finals would have a greater following. It depends on how many games, how close the games are. I can only thus sort of swear to the world that we do the best we can and that we don't prefer one market or one team over another."
Obviously, the notion of the NBA conspiring to get the Warriors over the Thunder into the NBA Finals is, on its face, pretty absurd. Why, exactly, would the NBA be so against Kevin Durant and Russell Westbrook in the NBA Finals? Of course, this won't appease conspiracy nuts, but what will? If the Thunder somehow win Game 7, there will be folks saying the league wanted the Thunder in the Finals after all.
(Via ESPN Radio, h/t Inside the Warriors)