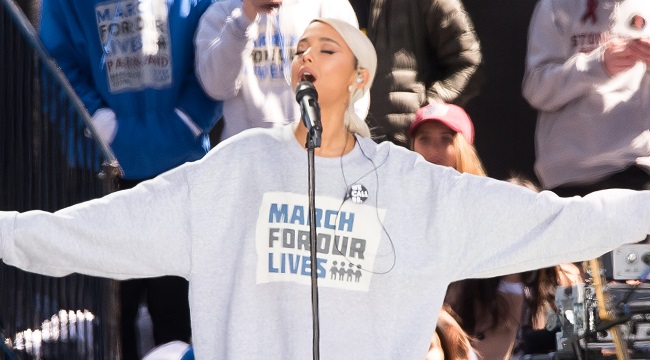 Ariana Grande will release the debut single off her fourth album on April 27, according to Hits Daily Double. Producers and writers involved with Ariana's 2018 release say that she has written songs "inspired by her experiences over the last few years," so essentially since 2016's Dangerous Woman. That could well mean that she reflects on the 2017 Manchester Arena bombing, which killed 22 people and injured 59 more during her concert there.
On New Year's Eve 2017, the Reebok spokeswoman shared a snippet of new music, featuring little else but angelic vocals, captioned "see you next year." By then, she had long been working on her latest project. Last summer, Pharrell said that he wasn't returning to The Voice in part because of Ariana's new music: "Ariana Grande's album is amazing, Justin Timberlake's album is amazing."
According to Hits Daily Double, Ariana also linked up with pop-superproducer Max Martin ("Problem," "Into You") and Martin's mentee Savan Kotecha, albeit while having "major creative control on the set."
Ariana's last public appearance was actually just last month, when she sang "Be Alright" during the March For Our Lives rally in Washington DC, in support of the Parkland, Florida, shooting survivors. Still, March For Our Lives was her first live appearance since the previous September, at a Charlottesville, Virginia, concert in protest of the white nationalist rally that took place.