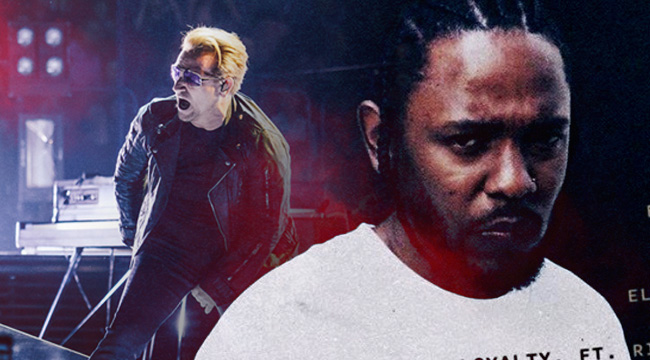 When word came down that Kendrick Lamar's highly anticipated new album, DAMN., featured a U2 collaboration called "XXX," fans and bloggers predictably revolted. Just as there is no contemporary artist who engenders more goodwill than Lamar, there's no other rock band that provokes more knee-jerk dislike than U2. (Even Nickelback hate has more or less burned out by now — U2's critics have been violently rolling their eyes at the venerable Irish rockers going as far back as 1988's Rattle & Hum.) What would a union of these spiritually-minded, socially-conscious, and somewhat messianic artists sound like? Would it involve a sample from one of U2's stadium-proven anthems, or would Bono and The Edge whip up some new grandiose flourish to complement Lamar's lyrics?
Either way, the expectation was that Lamar was utilizing U2 to go big, perhaps perilously so. Days before DAMN.was released, there was speculation that "XXX" would be nothing less than "the most self-righteous song of all time." But in actual fact, "XXX" is neither grandiose nor particularly self-righteous, but rather an uncertain and deeply troubled mini-suite about the nature of American self-destruction.
"XXX" is really two songs in one. The first half is a revenge parable with Old Testament overtones, scored with reptilian 808's, churning synths, and stark sirens. Lamar hears from a friend that his only son has been murdered — a resonant reference on Good Friday — and it sends Lamar spinning into fantasies of retribution that verge on blasphemy. ("Ill catch a n**** leavin' service if that's all I got.") Like the rest of DAMN.,"XXX" is a pronounced departure from the sumptuous soul-jazz symphonies of Lamar's previous album, the 2015 masterpiece To Pimp A Butterfly, instead favoring a sparse soundscape that puts the emphasis on Lamar's virtuosic lyricism and the mournful fury of his delivery.
U2 doesn't enter "XXX" until the second half, though it's hardly the grand Joshua Tree-style fanfare that many anticipated. Instead, this is U2 in Zooropa mode, in which extra emphasis is placed on the interplay between drummer Larry Mullen and bassist Adam Clayton. The Edge's distinctive guitar, meanwhile, is M.I.A. (Is The Edge playing those spare gospel piano chords? If not, then he must have been relegated to joint-rolling duty during the session.)
In this section of "XXX," Lamar pivots from parable to sermon, directly addressing a culture that is continually at war with itself, implicitly drawing a connection between the thirst for revenge in the song's first half to the never-ending cycle of Americans destroying other Americans out of a constant sense of aggrievement. Again, the religious connotations are made plain: "Hail Mary, Jesus, and Joseph / The great American flag is wrapped and dragged with explosives," Lamar says. He then goes on to link street violence with Wall Street corruption, in which "employees and bosses with homicidal thoughts" lead to the horror of a Donald Trump presidency. (How poignant does the album cover of To Pimp A Butterfly seem now just three months removed from the Obama era?)
Bono's vocal hook is an extremely Bono vocal hook, in that it seems to communicate broad truths without quite making literal sense: "It's not a place / This country is to be the sound of drum and bass / You close your eyes and look around." Aside from the shout-out to his boys Larry and Adam, what Bono seems to hint at is a familiar theme from many U2 songs: Mankind perpetually feels dislocated in every way — physically, emotionally, spiritually —–which inevitably sends our eyes heavenward in search of guidance and, hopefully, deliverance. Later, Lamar distills this feeling down to a question: "But is America honest or do we bask in sin?"
What's striking about "XXX" is how Bono, one of rock's great raging egoists, completely sublimates himself to Lamar, allowing himself to essentially be used as a paint color in a larger canvas. The assumption (or fear) was that U2 would subsume Lamar, but it's clear that all involved parties never doubted that Lamar would be in complete control.
Upon my first listen of "XXX," I was instantly reminded of "The Wanderer," the closing track from the last truly great U2 album, 1993's Zooropa. At that time, U2's place in the culture was roughly analogous to where Lamar is now — U2 was viewed as both artistically bulletproof and morally exemplary. But on "The Wanderer," U2 decided to cede the spotlight to a crusty icon who had recently fallen on hard times, Johnny Cash. At the time Zooropa was released, Cash was still one year removed from his brilliant 1994 comeback LP, American Recordings, which ushered in the Rick Rubin-aided renaissance of his final years.
The expectation at the time was that "The Wanderer" would be a terse strummer in the mode of Cash's classic work. But U2 instead grafted Cash's voice to a murmuring synth ballad about searching for God in a spiritually-barren world that was more akin to Brian Eno than "I Walk The Line," an unlikely juxtaposition that worked beautifully and re-inserted an old legend into the modern world for the first time in decades.
Bono turns 57 next month, which means he isn't much younger now than Cash was (61) when Zooropa was released. And Lamar uses Bono in a similar way on "XXX" — as a literal voice of wizened authority in a new, forward-looking context. Viewed cynically, U2's appearance on DAMN, might seem like one last stab by an aging band at pop relevance. But when heard via Lamar's reverent perspective, Bono once again seems like a serious man of stature, the sort of person you want at your side when contemplating the darkness of the world.
Whether Lamar can do for U2 what U2 did for The Man In Black remains to be seen. But as men with an intense need to wander the troubled terrain of a scarred world, Lamar and U2 certainly seem to be kindred spirits.