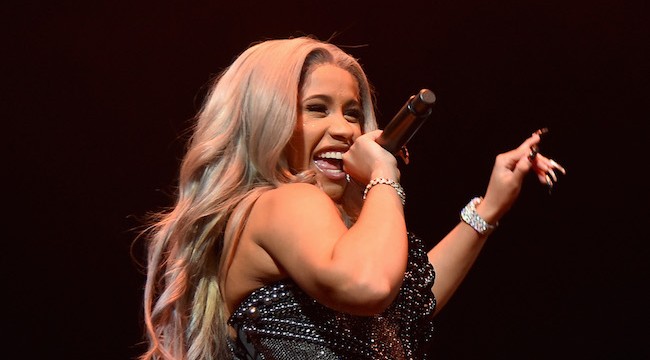 For artists of any genre, switching up their style can be a risky proposition. This probably goes double for hip-hop, with its quirky subgenres and fickle fans; taking a creative left turn can hurt as often as it can help. Cardi B is learning that now with the split reaction to her latest single, "Be Careful."
While Cardi has become known for massive, trappy, club anthems, "Be Careful" is a departure in more ways than one. It displays tenderness and vulnerability, a far cry from "these is red bottoms, these is bloody shoes." Rather than a speaker-shaking, drunk-all-night-in-the-club, street anthem, "Be Careful" is stripped-down and self-contained, inflected with hints of the Latin music Cardi grew up on as she reflects on a past, broken relationship.
She also borrows the bridge from Lauryn Hill's 1998 The Miseducation Of Lauryn Hill single "The Ex Factor" for her hook, intoning, "Care for me, care for me / Always said that you'd be there for me, there for me / Boy, you better treat me carefully, carefully." While she shows intriguing growth on the new track, stretching her boundaries beyond the pop-oriented material she's released since "Bodak Yellow" blew up the charts, not everyone is happy about the new direction of "Be Careful" or the homage to Lauryn Hill. The claws came out on Twitter, with fans on both sides angrily dismissing any opposing views.
Judging from some of the reactions, it appears to be worth noting once again how sample credit works. Because Cardi interpolated lyrics from Hill's single, Hill needed to be credited as a writer. That means that she also receives a percentage of the revenue from the track, depending on whatever deal negotiated for the split. The same goes for the Wu-Tang credit on Lauryn's song, which naturally transfers to Cardi's credits as well.
Growth within hip-hop can be difficult to accomplish. While it can expand a rapper's range and even change the genre as a whole, as it did for Drake, you can also get a Common Electric Circus situation, where you grow too fast for a fanbase's tastes and have to hope to recapture them with a later return to form as he did on Be. Of course, "Be Careful" will get plenty of spin, so fans will have lots of chances for the track to grow on them, but it also changes the expectations for Cardi's upcoming debut album Invasion Of Privacy. Anyone expecting ten more songs like "Bodak Yellow" might end up disappointed, but for fans who were ready to see Belcalis Almanzar finally spread her wings, "Be Careful" is the first indication that we might get to see more of the real Cardi, which is what made us love her in the first place.