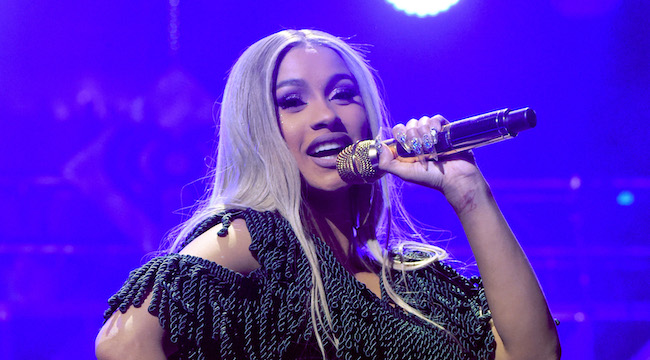 As the Cardi B legend grows, so does the 26-year-old's increasingly lucrative brand of playful social media antics, irreverent red carpet behavior, and unfiltered candidness. There is perhaps no better proof of this fact that than the news that the Bronx native has begun the legal process of trademarking what has essentially become her catchphrase.
On Thursday, The Blast reported that Cardi filed paperwork to trademark the word "Okurrr" for merchandising purposes. This means that one can expect to see her phrase emblazoned on everything from paper goods, like cups and posters, to pants, shirts, and hoodies sometime in the near future.

In April of 2018, the "Bodak Yellow" rapper made a guest appearance on The Tonight Show Starring Jimmy Fallon and broke down some of her already-iconic catchphrases. The word that sparked the biggest reaction, however, was the "Okuuuuuuurt!" Since then, it has felt like an okurrr wave has rippled through the popular. Everyone from Kris Jenner to NBA Hall of Famer Charles Barkley have taken the phrase for a spin. In February, Pepsi even built an entire Super Bowl ad campaign around the word starring Steve Carrell.
Savvy business woman that she is, Cardi is being very scrupulous with the trademarking process. In addition filing for the rights to "okurrr" with three r's, she also filed for "okurr" with two. She's covering all the bases.