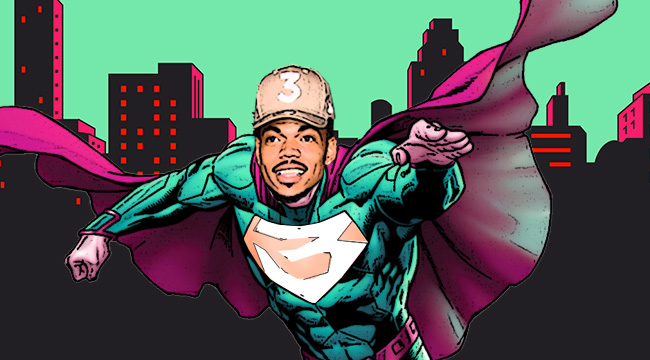 Some heroes wear capes; others wear hats. If you didn't already know, ever since Chicago's wunderkind Chance The Rapper landed on people's radars with 2013's Acid Rap (which is still available for free streaming almost exclusively on Soundcloud), he has been using his ever-growing powers for overwhelming good, with an emphasis on bettering the lives of South Side Chicago youth.
He has spent the better part of the last few years giving back to the community that raised him, and encouraging those with the ability to stand by his side and take action. Let's take a look at a few of Chance's most heroic feats.
1. He donated $1 million to Chicago Public Schools
I mean, come on! After a meeting with the governor of Illinois to discuss the decrepit state of Chicago's public schools didn't go according to plan, Chance took matters into his own hand and stepped up to donate $1 million directly to the Chicago Public School Foundation. The money was sourced from ticket sales for his upcoming spring tour in a supportive partnership with Live Nation, AEG and independent promoters and venues. Chance also announced that he will be donating $10,000 to Westcott Elementary, where he attended school, with nine more public schools receiving funding in the coming weeks. Additionally, he will donate $10,000 for every $100,000 donated through his Social Works nonprofit via the new CPS-centered landing on his official website.
2. He still had Kanye's back after his mental break
[protected-iframe id="d5cb90a999bfabd15637fa7bea9d1260-60970621-76566046″ info="https://www.bbc.co.uk/programmes/p04hd16m/player" width="400″ height="500″ frameborder="0″]
After Kanye West suffered from what appeared to be a mental break that landed him in the hospital, Chance took a moment during his appearance on BBC Radio 1Xtra to wish him well, saying, ""I want to extend a special prayer to my big brother Kanye West… I want to just extend this prayer and this love from all the way in Britain. We might come home early to see this. Happy Thanksgiving." That's a true friend right there.

3. He made "Sunday Candy"
During Chance's verse on Kanye's Life Of Pablo opener "Ulralight Beam," he sings "I made 'Sunday Candy,' I'm never going to hell." Just take a second watch the video and you'll know what he's talking about.
4. He bought all the tickets to showings of Get Out so Chicagoans could see the movie for free
After extending his high praise for Jordan Peele's new horror film Get Out, Chance decided to allow people who might not otherwise have an opportunity to see the movie no excuse to pass it up. On the movie's opening day, he bought out every screening of the film at Chicago's Chatham Theatre on 87th so that fans would be able to catch the movie on him.
5. He invited the NAACP on tour with him to encourage fans to get out and vote
On last fall's Magnificent Coloring World Tour, Chance collaborated with the NAACP on a #staywokeandvote campaign to allow fans to register to vote during stops throughout the United States. Members from the Youth and College Divisions of the NAACP were present at nationwide gigs to make themselves available in assisting the registration process as well as staffing information tables to "provide civic engagement resources and NAACP membership information to concertgoers." In a NAACP press release about the project, they called Chance "an artist whose music praises and lifts up our common humanity, and whose call for action speaks to the yearning of this moment." They're completely right.

6. He dominated the Grammys with an album that was only available via streaming
In the first year that albums only available via streaming were eligible for Grammys after an effort spearheaded by Chance himself, our guy dominated the awards, taking home awards for Best New Artist, Best Rap Album for Coloring Book, and Best Rap Performance for "No Problem." But the implications of this win are even greater: as our very own Stephen Kearse wrote after Chance's big night, "Drake and Chance's victories faintly suggest that Grammy voters are finally beginning to recognize the internet as the epicenter of culture." And with Chance's ongoing efforts, songs and albums available on Soundcloud will see recognition from the Recording Academy starting in 2018. Other rappers like Lil Yachty have already noted how much this will help independent young stars get the recognition they deserve.
7. He bought back tickets from scalpers for his Magnificent Coloring Day Festival
In the months leading up to his inaugural Magnificent Coloring Day festival in early September, word reached Chance that a large amount of tickets for the fest had been bought up by scalpers and were being sold for astronomical prices. However, instead of just tweeting his dissent with the scalpers, Chance once again took matters into his own hands and shelled out thousands to take back the tickets. Informing fans via the above tweets, he then turned the tickets into physical tickets and listed them exclusively on his site, where he sold them to fans for between $45 and $75. As noted in a Forbes article about Chance's fan savvy efforts, "The Chicago rapper is one of many artists joining an unofficial boycott of ticket scalpers in an effort to disrupt the resell market… It's an industry problem that artists have addressed for ages, but Chance refreshed the issue with his recent tweets."
8. He uses his platform to promote local Chicago talent
From Saba on Coloring Book's "Angels" (above) to Jamila Woods on Surf's "Sunday Candy" to Noname on Acid Rap's "Lost," Chance has never shied away from showcasing the talent that exists within the limits of Chicago in his music. At this point, a co-sign from Chance can give these deserving artists the bump in popularity that they deserve — and he never forgets his day-one collaborators and friends.
9. He pushed the credit toward his friend with Donnie Trumpet and the Social Experiments's 2015 album Surf, despite his primary role in the production
When Chance started tweeting about Surf in 2015, excitement started to build the followup to Acid Rap was on the way. When Surf dropped for free on iTunes, many were surprised that Chance's name was nowhere to be found on the record he had spent so much time hyping up. In our longform feature on the formation of The Social Experiment and the production of 2015's Surf, we learned that although Chance provides many of the vocals on the record, Nico Segal was the primary creative force, with Chance using his newfound attention to allow his friend to achieve his goals to "convey that I'm a producer and not just a trumpet player in Chance's band." Chance was the impetus for most of the features on the album, landing the likes Erykah Badu, Big Sean, Busta Rhymes, J. Cole, and Janelle Monae; yet the tracklisting for Surf shows no mention of Chance's name, only "Donnie Trumpet & The Social Experiment."
10. He hosts an open mic to spotlight creative Chicago youth
In collaboration with the Chicago Public Library, Chance's nonprofit Social Works hosts an open mic in a the Cindy Pritzker Auditorium of the Harold Washington Library Center "to present a safe space for high schools students to share, express, and network with like-minded individuals." For the event, students are able to register to be randomly selected to present a three-minute piece of their choosing, with closing remarks from professionals discussing their creative project and doing performance of their own.
11. He created a resource for independent artists to get airplay on the radio.
With a new site called RapperRadio.com, Chance encouraged fans to help get his tracks "No Problem" and "Summer Friends" airplay on national radio stations to promote independent music. The site was a one-stop destination to tweet your support for Chance's tracks to be played. "The radio is like a huge listening party for people of all demographics to get in tune. In those moments it's mad ppl in harmony," Chance said on Twitter. RapperRadio worked, with Los Angeles station Power 106 taking notice and adding "No Problem" to their rotation.
Look, this guy's heart is so big this list could've gone on forever. Got something that stands out in your mind? Post your own Chance superhero moments down in the comments!