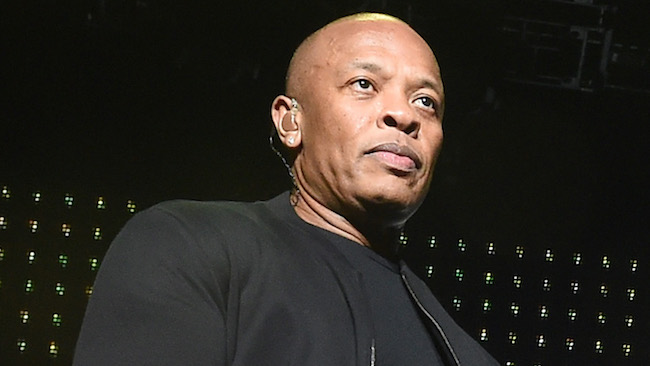 Try as he may, Dr. Dre is just not going to be able to escape his past as an alleged serial abuser of women. While the nasty rumors mostly just went away as time passed, Dre's return to the limelight as the NWA biopic Straight Outta Compton became a smash hit brought new scrutiny his way and he eventually apologized. Dre's former longtime girlfriend Michel'le also reiterated her abuse claims through the media after SOC scrubbed that part of his history from the film. She was granted a biopic of her own on Lifetime this year, and it did not portray Dre as glowingly as SOC, and it seemed all of his dirty laundry was finally strewn across his Internet lawn.
But now new claims are being brought to light by Ben Westhoff, author of Original Gangsters, a book detailing the rise of west coast acts 2 Pac, Eazy-E, Ice Cube, Snoop Dogg and of course Dr. Dre. In an interview with the Murder Master Music Show, Westhoff details one of the claims, concerning the mother of one of Dre's children Lisa Johnson.
There are four women who have accused Dr. Dre of beating them up. I discovered one for my book who has never been talked about before… her name is Lisa Johnson and she says he beat her a bunch of times in the '80s when they were together including while she was pregnant, and I was able to find court documents to back this up. I also talked to an eyewitness to one of the beatings, who was her aunt.
Westhoff's book has been available since September, and the interview was released in November so, as is usually the case, the allegation have taken some time to gain traction online. Judging by his previous reluctance to speak about any of the abuse allegations publicly, and his threatening to sue Michel'le over the Lifetime film, it's doubtful Dre gives much cadence to this new claim. Westhoff also alleges that Dre's lawyers has threatened to sue him in a similar fashion, but he decided to publish the allegations anyway because he has the court documents to back up his claims.
Check out the clip below and the rest of Westhoff's interview can be heard here.
Original Gangsters is out now, get it here.