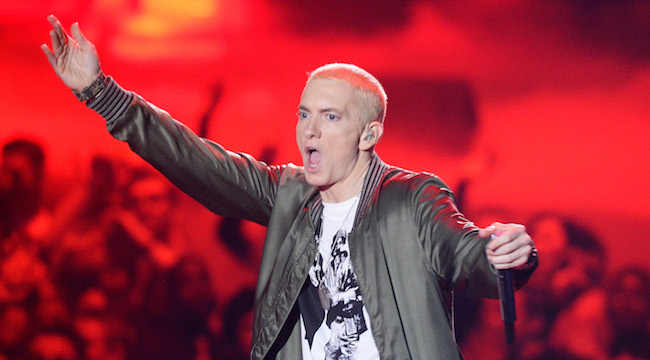 However you felt about Eminem's surprise album Kamikaze, there's one thing you can't deny: The Detroit rap veteran is still one of hip-hop's hottest commodities when he releases a new project. For the ninth time in his career, Eminem has debuted an album at the top of the charts as Kamikaze lands at No. 1 on the Billboard 200.
The album pulled down a seriously impressive 434,000 equivalent album units, with well over half of those figures coming from traditional album sales. While many of the other rap titans of the year garnered the majority of their sales through streaming, Eminem's incredible first-week tally was driven by 252,000 in traditional sales in a departure from the norm newly established by Eminem's younger contemporaries in recent years.
According to Billboard, Kamikaze constitutes a sort of redemption from Eminem's previous album, Revival, which also debuted at No. 1 but only sold 267,000 equivalent units. Kamikaze makes Eminem's largest streaming week ever, with 168,000 streaming equivalent units, or 225.5 million streams of the album's songs, and the eighth-largest streaming week of 2018. It's the fourth-largest week for any album in 2018 as well, behind Drake's Scorpion, Travis Scott's Astroworld, and Post Malone's Beerbongs & Bentleys.
Two of those albums maintained positions in the top five; Drake took the No. 3 spot, while Travis secured No. 2. The remainder of the top five is filled out by pop stars Troye Sivan and Ariana Grande, at fourth and fifth, respectively.