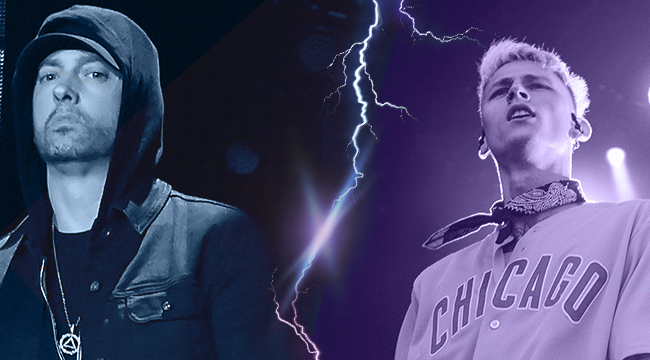 It's been a good, solid week since Eminem released "Killshot," his verbose yet virtuosic response to Machine Gun Kelly's "Rap Devil." Since neither has taken time out of a busy schedule of press interviews and touring with Fall Out Boy to record — or rather, release — another response, this seems like a decent time to take stock, tally up the points on the scoreboard, and decide just who's ahead after the first round in what many rap fans are hoping turns into an all-out lyrical war.
Of course, controversy is nearly always certain in situations like this, so we need to break down the three areas in which MGK and Slim Shady are getting scored. First up, and most obviously: Lyrics. In a rap battle, the guy with the best lyrics wins. Now, this rating is admittedly super subjective — after all, some folks love a good, tongue-twisting rhyme pattern while others prefer hard-hitting punchlines or particularly juicy gossip, as in Drake vs. Pusha earlier this summer. In that case, although both rappers were pretty evenly matched from a technical standpoint, it was Pusha's revelation that Drake had secretly been supporting a child that pushed the match over the edge. Drake quietly withdrew after some corner coaching from mentor J. Prince, who decided that both rappers' entourages were way too rowdy to keep slinging personal shots.
Next, we'll look at responses. How did each rapper roll with the punches? For instance, Drake's initial response to Pusha's feints on "Infrared" was the decidedly sassy sigh at the beginning of his own "Duppy Freestyle," which would have earned him big points, but given Pusha's own response turned out to be "The Story Of Adidon" and Drake's follow-up involved turning tail, The Boy from Canada loses a sizable majority of those points. Finally, we'll look at impact; this is hardest to judge, because there isn't much distance from the actual tracks landing to see how they've affected the landscape of hip-hop or the respective rappers' careers.
The impact of Pusha's diss on Drake could be minimal if you look at sales (seriously, Scorpion is one of the highest-selling albums of the year while Daytona drags along, falling off the Billboard 200 just seven weeks later), but seemed to have rattled Drake, making him reconsider tracks at the 11th hour. Scorpion is full of obtuse references to the battle, but it looked like nice guy returned; getting scared straight is no way to win a rap beef.
So, without further ado, here's the breakdown of the battle that had the rap internet buzzing this past week.
Lyrics
This one's a no-brainer. Eminem, for better or worse, is a master wordsmith and put every ounce of his considerable skill and forethought into "Killshot," which is brimming with intricate patterns, colorful, layered metaphors, and dizzying internal rhyme schemes, all delivered with the trademark, breathless energy that allowed Em to seriously declare himself "Rap God." Even taking away nitpicky points for utterly godawful tripe like "Are you eating cereal or oatmeal? / What the fuck's in the bowl, milk? Wheaties or Cheerios?" and for Em mistaking Kelly for a mumble rapper, it's pretty hard to argue with "I'd rather be 80-year-old me than 20-year-old you."
And while Kelly held his own and got off his own chuckle-inducing digs at the elder rapper ("all you do is read the dictionary and stay inside" will forever be my favorite thing anyone has ever accused a rapper of doing, for the imagery alone), he spent a few too many bars being complimentary of Em's legacy and skill. While acknowledging a rival's dopeness can be a superb tactic, it only works when the line is suitably backhanded and undercuts the compliment within the same bar. Think Common telling Ice Cube "you ain't made sh*t dope since Amerikkka's Most" or Jay-Z handing a "one hot album every ten year average" to Nas. Kelly gets 8 points but loses one for being too dang nice, while Eminem gets a half point knocked off his perfect 10 for losing the thread a couple times in his verse.
MGK: 8. Eminem: 9.5.
Winner: Eminem
Response
Setting Eminem's inflated rap beef win record aside (a win is a win, but so many of his come with glaring asterisks, it's hard to really take him seriously as all that big of a threat), MGK stuck his head in a lion's mouth when he responded to Em's "Not Alike" jab. Machine Gun Kelly has what his namesake would call "moxie," even if his skills as a rapper have been somewhat underrated by less-than-engaged rap fans. He certainly lacks the profile and popular support, so throwing a few haymakers takes guts — especially when the target in question has the ear of your parent label's big boss.
Eminem's response was, of course, "Killshot," which speaks for itself. However, each rapper's responses after the tracks hit the 'net are where the points really lay. For his part, Em actually might have undermined himself with his interview with Sway Calloway. In the interview, he admits that his reasoning for the "Not Alike" callout was even more petty than the six-year-old tweet from MGK calling his daughter Hailie "hot as f*ck."
"First he said, 'I'm the greatest rapper alive since my favorite rapper banned me from [Eminem's radio station] Shade 45,'" he admitted in the interview. "Like I'm trying to hinder his career. I don't give a f*ck about your career. You think I actually f*cking think about you? You know how many f**cking rappers that are better than you? You're not even in the f*cking conversation."
Em comes off a little too salty here, where Machine Gun Kelly's cheeky social media response (see above) — falsely engineered or not — serves as a reminder that all of this is pretty good press for him, putting eyeballs on his career in a way that his three top 10-charting albums and recent hit, "Bad Things" with Camila Cabello, have not. Turning the cover art from "Killshot" into a T-shirt is 8 Mile level social media judo — an area that Em may be playing catch-up in.
MGK: 7. Eminem: 6
Winner: MGK
Impact
"Killshot" is, no doubt, one of the biggest singles ever released in the streaming era; Youtube has touted it as the biggest debut video ever in the platform's history. Eminem's footprint is a mile wide and fifty feet deep. There's just no escaping his influence on the rap game. He's as ubiquitous as an MC can get, an anomalous, white prodigy in a Black musical genre who is as readily accepted by both demographics in ways similarly-talented peers and contemporaries are not.
Which is why Eminem deigning to use his skyscraper-sized boot to try and squish the much, much, much lesser-known Kelly — over a six-year-old tweet, mind you — scans as bizarre. He gets literally less than nothing out of a beef with Machine Gun Kelly; no sales, no clout, nothing other than yet another asterisked "win" should MGK decide to up and quit rapping within the next month or so.
MGK, on the other hand, would emerge win, lose, or draw, with the scars to prove he went toe-to-toe with the titan. It's a little like getting bit by a shark, it may hurt in the short term, but you end up with a gnarly story to tell. You may even become a local legend. That's exactly what's happening with MGK now. His "Rap Devil" took over the Apple Music charts and shot up the Hot 100 and now, his name is trending higher on Google than it has at any time over the last five years. Seriously, it's like he may as well have not even existed until September 3, 2018. In an even weirder quirk, searches for both "Machine Gun Kelly" and "Eminem" were actually higher when "Rap Devil" dropped than when "Killshot" did.
Machine Gun Kelly poked a giant in the eye and has rightly observed some significant increase in acclaim from the rap audience at large. Whether Eminem really is the "GOAT" (debatable), he's close enough that watching someone take a wack at him is statistically more entertaining than actually looking up his album (again, September 3 was a more significant day for his name on Google than the day his album dropped). If that's not a win for impact, nothing is.
MGK: 9. Eminem: 7.
Winner: MGK with 24 points and wins in two of three categories.
Round one of their battle of wits was tightly contested, as Eminem only barely missed out on a tie with 23.5, but it's clear that if anyone benefitted from the beef, it was Machine Gun Kelly. Round two — if there is one — may be a different story, but for now, the Cleveland, OH rapper is a half-step ahead and proving he can stand with the greats.