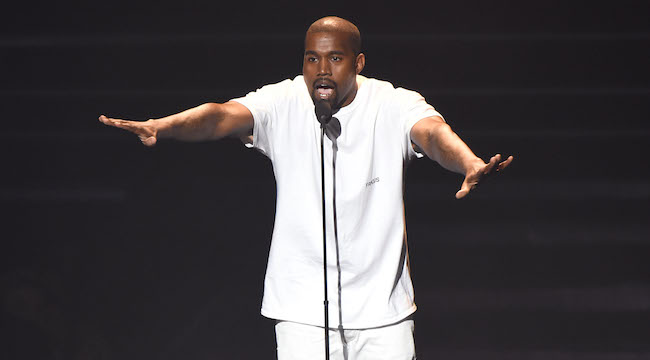 Apparently, it's not enough for Kanye West to be one of the most acclaimed hip-hop artist of the last two decades. He also wants some recognition for being a rock and roller as well. Like most artists who rolled out new albums this year, Yeezy recently submitted some of his music to the Grammys for consideration in several different categories. The one that's raising the most eyebrows however is his decision to ask that his Kids See Ghosts collaboration with Kid Cudi, "Freeee (Ghost Town, Pt. 2)" be considered for both Best Rock Song and Best Rock Performance.
Apparently, the gambit paid off, at least initially. According to TMZ, when the ballots go out to the larger voting block, "Freeee (Ghost Town, Pt. 2)" will be up for nomination in both categories. It's a curious decision, on its face, but the song itself is loaded with big drums and brash, fuzzed-out synths, so who knows what the voters might think? For what it's worth, he also submitted himself for the Producer Of The Year prize, which given the sheer amount of music that he worked on with Pusha-T, Nas, Teyana Taylor, his own solo album Ye, and Kids See Ghosts, is a real possibility.
Back in 2015, Kanye sparked a debate when he decided to loudly, and viciously proclaim himself to the be "The greatest living rock star on the planet," during his set at the Glastonbury Festival. Now it looks like he's gunning for the hardware to prove it.