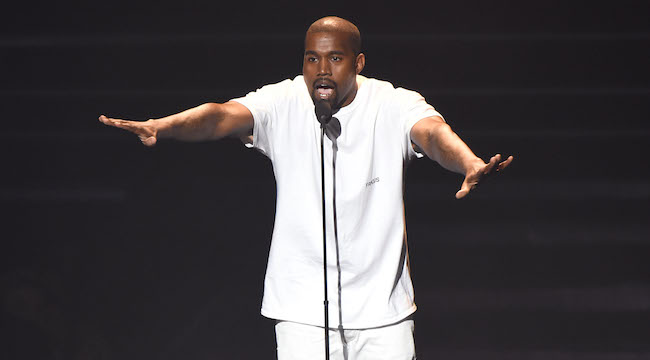 In what is either the best or worst album promotion stunt of all time — no middle ground here whatsoever — Kanye West has doubled down on his pro-Donald Trump stance on Twitter, drawing commentary from his wife Kim Kardashian-West and the President Of The United States himself.
Kanye's return to Twitter elicited a number of responses from followers excited to see what the self-proclaimed genius had in store, but that quickly seems to have turned to horror as his tweets have taken on more and more of an alt-right approving stance, first praising conservative commentator Candace Owens, then openly admitting love for the most divisive US President since the Civil War. After calling Trump his brother and professing a shared "dragon energy," with the President, West went all in, tweeting a photo of himself wearing a Make America Great Again cap while embracing Youtube Music head Lyor Cohen and Universal Music Group CEO Lucian Grainge.
Twitter erupted, with longtime fans excoriating the musician for promoting Trump, whose controversial policies and comments have caused his popularity ratings to plummet among both American people and abroad, and alt-right trolls chiming in to praise his latest sartorial choices. Of course, with his tweet generating so much attention, the President couldn't resist the opportunity to get the people talking (his favorite hobby, apparently) and quote-tweeted the post with his own co-sign: "Thank you Kanye, very cool!"
With so much furor over the controversial tweets running rampant, Kanye's wife Kim Kardashian also put in her own two cents, questioning why Kanye's opinions would set people off this way. "He's a free thinker, is that not allowed in America?" she wrote, "Because some of his ideas differ from yours you have to throw in the mental health card? That's just not fair. He's actually out of the sunken place when he's being himself which is very expressive."
No one could have expected that when Kanye first tweeted out the impending release of a massive collection of new music from himself and his GOOD Music cohorts that his Twitter return would lead to this. As Ebro Darden pointed out on his show recently, Kanye certainly has plenty of incentive to stir things up to ensure the maximum amount of attention on his upcoming release schedule, but he's also playing with fire. Trump's performance as President has been erratic; by turns, he's shown himself to be embarrassing, uninformed, aggressive, and dangerous. Aligning himself with such a personality may be great for garnering attention, but Kanye should know better than anyone by now how quickly public opinion can turn — and in this case, his music may not be enough to save him if or when it does.