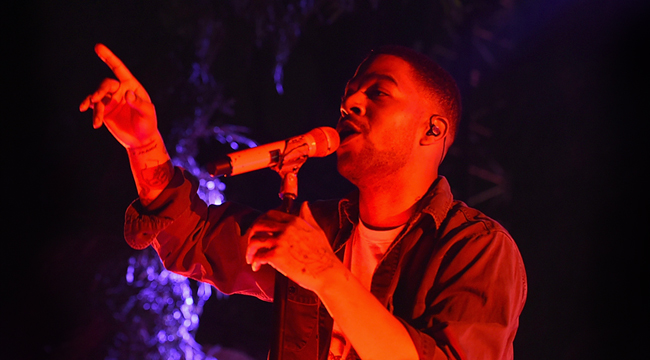 Most young fans idolize Kanye West as the icon of this hip-hop generation, but who does he hold in that regard? Kid Cudi. Kanye called his Kids See Ghosts cohort "the most influential artist of the past 10 years" at a September 2016 Saint Pablo Tour stop. Cudi's influence looms beyond the melody-driven, genre-bending brand of hip-hop he helped usher in with his contributions to Yeezy's 808s & Heartbreak — and in highly regarded albums like his Man On The Moon series and A Kid Named Cudi.
Cudi's cultural impact reverberates through the vulnerable lyrical exploration of his mental health battles that defined his catalog and inspired Travis Scott to deem him "one of the realest rappers alive." In a genre where the term "real" is so often reserved for hypermasculine, seemingly bulletproof depictions of Black manhood, Cudi has subverted those norms and epitomized the term through ever-relatable reflections of his existential frailties and being "consumed by doom," as he grieved on "Soundtrack 2 My Life" from his highly-regarded Man On The Moon album.
Thankfully, it appears that doom has dissipated, as he recently told Billboard that he's the "best he's ever been" after entering rehab for suicidal ideations in 2016, and is eager to make more music, including future iterations of Kids See Ghosts.
When Kid Cudi broke out as a solo act in 2008 with "Day N Nite," his ode to self-medicating, he was an outlier in a genre still dominated by traditional messaging of emotionless Black manhood — but the coming shift was apparent. It's now more culturally acceptable for Black men, specifically hip-hop artists, to be open about their mental health struggles, as artists like Tyler, The Creator, Saba, Vic Mensa, Lil Uzi Vert, and the late XXXTentacion affirm — but it wasn't always like that.
Lil Wayne was hip-hop's reigning king at the time and even he admitted: "I Feel Like Dying." Kanye West had released a cathartic adieu to his fiancé and mother on 808s & Heartbreak (with Cudi's help). Drake was working on So Far Gone — the opening offering from the Toronto artist's introspection industrial complex. Even the steely 50 Cent released an album in 2009 called Before I Self-Destruct, hinting at the acknowledgment of a breaking point that so many of us seem on the verge of — but are afraid to discuss publicly.
Cudi wasn't.
Compared to modern icons like Drake, Kanye, and Lil Wayne, Cudi doesn't have a boatload of sales, or a room full of accolades, but his weighty impact is reflected in adulation from the people, which is the intangible, everlasting achievement that most artists live for. He's one of the first artists to be unabashed about his depressive ruminations and did so in a melodically intriguing manner that progressed alternative rock aesthetics into the hip-hop world one cadence at a time. Sure, he was Dat Kid From Cleveland with a beaming smile, but his lyrics also conveyed a darkness that shaped his worldview and resonated with millions — including me. I can't admit to being a diehard fan, but I appreciate his presence.
From the start, his duality was what made him feel accessible. I remember watching him performing at an awards show, smiling from ear-to-ear, but songs like "Pursuit Of Happiness" and "In My Dreams (Cudder Anthem)" indicated that the moment of creative fulfillment was just a fleeting sojourn from melancholy. I'm sure he wanted to capture that jubilant moment and carry it with him, like the ocean's tranquil resonance in a seashell.
Very few of us enjoy our crippling, depressive moments, but their stigma makes them impossible to even discuss with loved ones. Cudi spoke for us if no one else did. What critics have characterized as "fake depth" in his songwriting could also be perceived as him admirably grappling with the task of poetically encapsulating the exhausting ache of depression.
Cudi likely dreamed of music success from a young age — but in a September 2009 issue of Rolling Stone, he admitted that he also dreamed of his own death from the fourth grade on. The adage persists that your first album is a reflection of your entire life beforehand, and Man On The Moon is a consummate corroboration of the theory. Cudi's childhood nightmares — along with grieving the death of his father at 11 and uncle in 2007 (which inspired "Day N Nite") — constituted the thematics of Man On The Moon, a project A.V. Club said radiated a "thick layer of open, intense self-loathing" — aka paved the way for my future social media presence.
Cudi's resulting work followed in the same vein, marking him a chief purveyor of what's been neatly delineated as "emo rap" by hip-hop media. From the influence of Cudi (and his band WZRD) came artists like Travis Scott, Lil Uzi Vert, and the late Lil Peep and XXXTentacion, who expressed the same kind of internal struggles with spiritual contentment and substances as Cudi does — with their own flourishes. Until recently though, Cudi wasn't enjoying life enough to appreciate his impact on the game.
In March 2013, he divulged that he had an addiction to antidepressants, which he was prescribed after a rough breakup. Elsewhere in 2013, he said that the pressures of newfound fame had driven him to cocaine use and alcoholism. In an ominous quote, he said that he stopped drinking cold turkey because "I didn't go to rehab. I don't believe in these things. Some people need the extra help, not me."
During an interview with Arsenio Hall in 2014, he admitted: "I've dealt with suicide for the past five years. There wasn't a week or a day that didn't go by where I was just like, 'You know, I wanna check out.'" The confession was startling, but again, it was ever-relatable to people like me who deal with the same ideations.
Cudi attributed the creeping ideations to "loneliness," "not having self-worth," and "not loving yourself." Check, check, check. Those three factors are at the heart of dissatisfaction for Black men in particular. The New Republic stated that "emotional isolation is ranked as high a risk factor for mortality as smoking." Studies have postulated that a confluence of media-fueled stereotypes, poverty, and overt racism contribute to low self-esteem in Black men.
Thankfully, today's artists are more candid than ever about their battles with these circumstances. Confessional albums from this year like Saba's Care For Me, Kanye's Ye and he and Kid Cudi's Kids See Ghosts made mental health awareness a hot-button issue in the culture. Artists like Lil Uzi Vert, Lil Pump, and Lil Xan have cried out for help on social media in a way that self-medicating rappers of the '90s and '00s could never have, even if they had the technological opportunity. Consider Biggie's deflective explanation for his death-obsessed Ready To Die album:
Ready To Die was ninety-five percent the chronic, five percent me. All the rest of that sh*t was the weed, man. All that 'Suicidal Thoughts' sh*t, all that extra sh*t that n—-s ain't really supposed to be talkin' 'bout? That was the weed talkin', man.
Today, in part thanks to Cudi, even artists who don't match the prevailing perception of "emo rap" reflect the healthy necessity of talking about what you "ain't really supposed to be talkin' 'bout." Ruffians like YG, Freddie Gibbs, Young MA, Chief Keef, and the late Prodigy participated in Vice's The Therapist show — which was at-times trivializing but well-meaning. Jay-Z reflected on how therapy saved his marriage on 4:44. Fat Joe recently spoke about going through a depression after the death of his friend and partner-in-rhyme Big Pun.
That said, hip-hop, just like the rest of society, still has room for improvement on the mental health awareness front. The Depression and Bi-Polar Support Alliance noted that nearly two out of three people suffering from depression don't seek proper treatment. Perhaps that's because of a flawed perception of depression being merely about being "sad" or easily overcome with "manning up."
In actuality, many hip-hop acts of today are living out the consequences of their untreated pain. Most of them have PTSD-parallel effects of living in impoverished, violence-stricken neighborhoods. There's copious substance abuse that's already taken the life of Lil Peep. There are also artists going to boundless lengths for viral attention while others' repressed anger combusts in fits of domestic abuse. Entering long-term therapy can help all of those issues.
That's exactly what Cudi did in 2016, after courageously confronting his demons in a Facebook post that confessed that "I am not at peace. I haven't been since you've known me" and "If I didn't come here, I would've done something to myself. I simply am a damaged human swimming in a pool of emotions every day of my life." After being a beacon for millions of miserable millenials and pensive artists, he admitted that "I need to show myself some love too. I think I never really knew how." As someone who still struggles with that seemingly simple task, his words resonated. He said he was "scared" and "nervous" about therapy, but took the plunge anyway.
His brave move inspired a #YouGoodMan hashtag, where Black men, in particular, were open about their battles with depression, anxiety, and other mental health issues. He likely didn't even realize the impact his brave step had on the community. It inspired a healthy, much-needed discussion for a community — in a country — that has rarely taken mental illness seriously. Lawyer Dayna Nuckles started the movement with Twitter user @TheCosby, and told BuzzFeed that "we get [a mental illness] as children, it continues as adults, and it causes us to die young. It sends us to prison, sends us to the hospitals because we don't talk about it. I think that the more normalized mental health care, even if it's not professional, will help."
Kid Cudi not only helped normalize the discussion of mental health care, he personifies the what "a better man" looks like after loving himself enough to seek rehabilitation. He returned to music by taking it back to his creative essence and teaming with Kanye West on Kids See Ghosts, a well-regarded album in which the two beloved figures delved into the full breadth of their mental health struggles — including conquering them. On "Reborn," he sounds as triumphant as ever while harmonizing the following:
I had my issues, ain't that much I could do
Peace is somethin' that starts with me
At times, wonder my purpose
Easy then to feel worthless
But, peace is somethin' that starts with me
Had so much on my mind, I didn't know where to go
I've come a long way from them hauntin' me
Had me feelin' oh so low
Ain't no stoppin' you no way
Oh, things ain't like before
Ain't no stoppin' you no way
No stress yes, I'm so blessed and-
I'm reborn
The haunting ideations that once consumed Cudi are only bolstered through wallowing, repression, and trivializing them. In a society that thinks so little of Blackness, we owe it to ourselves to not believe them. Cudi is proof positive that acknowledging weakness is a strength; honesty has been his sword, slicing through conventions of music, manhood, and mental health stigma. Hopefully, those of us dealing with mental health issues can learn from him and have a King Arthur moment where finding our sword isn't a lifelong struggle, but a simple tug from within to love ourselves.
Hopefully the young artists — and admittedly, Black men like me — who were so inspired by Cudi sonically can take heed of his person evolution, and find it within themselves to make a move braver than any trigger-pull, punch, or diss track: Acknowledging you need help, telling yourself you're worthy of it and becoming a better man after it.