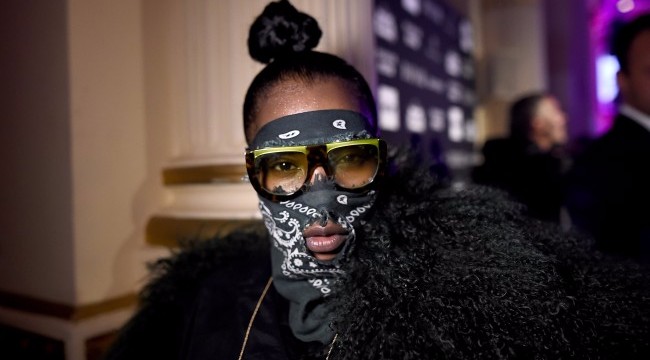 Leikeli47 has a way of making you feel like her best friend, even over the phone from over 3,000 miles away. Somewhat ironically for someone who cloaks herself in an air of mystery the way she does, there's a charming openness to her conversation. While some may consider her many masks a distraction, it was clear to me on first sight that they were absolutely essential to 47's entire presentation, obscuring her physical features to focus attention squarely on her music.
To that end, it's best to avoid the question of the mask almost altogether — although I did have one or two queries about them, myself. What I, and more importantly, Lekeili (pronounced Leh-KAY-lee) wanted to talk about was her album, Wash & Set, her first full-length project since signing to RCA Records in 2014.
The basics of her story are hazy, but graspable, if you do enough research. She grew up in Bedstuy, Brooklyn, with roots in Virginia. She came onto the blog scene in 2012, with her first two, self-produced mixtapes, LK-47, and LK-47 Pt. II. She rocks a mask, not just to force listeners to engage with her music without the customary visual component usually expected of women in rap, but also out of feelings of stage fright and shyness.
In 2014, EDM superstars Diplo and Skrillex, fans of her mixtapes, invited her to play her first real show with them on New Year's Eve at Madison Square Garden. In 2015, Jay-Z made her infectious jam, "F**k The Summer Up," the number one song on his Tidal playlist. She's gone from simple ski masks, to a wide array of customized masks to continue to obscure her features, but that hasn't stopped her star from steadily rising, leading to her inclusion on the Insecure soundtrack, culminating in the release of her debut album.
Wash & Set, supported by singles "Milk," "OMC," "2nd Fiddle," and "Miss Me," explores themes of relationships, and communication. In fact, Leikeli47 calls herself a "communicator," rather than a rapper. Don't get it twisted, she can spit too, but the album is much more than just fourteen songs of battle raps, as much as it's a departure from the sometimes watered-down bubblegum rap that mainstream rappers are forced to deliver by their labels. It's unique and eclectic, and 100% Leikeli, and there's nothing else like out today.
But before we got into breaking down her colorful, pop-inspired beats, or digging in the crates-influenced, hard-edge raps, we discovered we had one thing in common.
So one thing I noticed watching all of these videos, you're an Air Max head.
You're like Andy Cohen.
Well, here's the thing. I'm an Air Max head. I feel like I'm out here all alone.
No, we're together. We're together here. I need to stay off of Nike.com.
What's your favorite Air Max?
Oh, You know, the 97's are having a great year, a great time. But it's always tricky because I love them all. It depends on the day and the mood. And the sweatpants. It depends on the day, the mood, and the pants. You know, how's it gonna lay? How's it gonna touch, you know, the top of the shoe, right? You know?
Exactly.
See, we speak the same. We speak Air Max.
I just saw you put it together because it's like in the "Milk" video when the bandanas match the outfit perfectly. It was like the same material.
I lowkey want to put you on speaker so my manager can hear all of this. Every time it comes down to my style, I'm like, 'Uh huh, all day, all day.' Thank you so much.
I know why you wear the masks, but I'm have to ask: Do you make those yourself?
Yeah, I make and create a lot of my own bandanas and my masks or whatever. I have all different kinds. They range from neoprene to ski masks and I like to get creative with all of them, like add my own personal touch to it.
Where did you get the concept for Wash & Set? What was the overall look you were trying to go for with this album?
Well, Wash & Set is just a celebration of new growth to come. It's also a celebration of women and just not looking like the things that they are actually going through. You know, getting a wash and set for a lot of us is the time where that's all "me" time.
But again, in those salons you're sitting right next to someone who you have no clue about, but you guys probably relate on so many levels, whether it be a struggle, or relationship issues. You just never know, but the one thing that you do know is that you both walk out looking and feeling the same. You walk out of there not looking anything like you're actually going through or whatever is trying to keep you down or whatever hindrances you're trying to overcome.
So that's the overall message with Wash & Set. It's just celebrating your growth, just your moving forward, going onward and upward.
I actually did notice that the overall, it's almost like a conversation from the beauty shop, with the different topics. Like "O.M.C." — 'I don't go out of my circle.' Can you break that down for me a little bit, like was that about a specific situation or person? Or was that inspired by a personal thing?
It's a general anthem. I mean, we've all had those instances where you've got different people coming in and out of your life, and sometimes they were there for a lesson and sometimes they were there for a blessing. But I'm one that believes there's a blessing in the lesson. So yeah, it's also an anthem of loyalty.
It's like a love song for my crew and for my friends just to let them know just where my loyalties are. I don't go outside of us for anything, and if you don't rock with one, you don't rock with none. So that's pretty much the overall message; it's a song about protecting your circle as well. You know, protecting your friends, and learning from your friends and learning from these experiences.
You touch on a lot of subjects and a lot of problems, but the sounds are so expansive. You don't really lean in too heavily into like boom-bap rap or into more pop rap, you bounce all over the place. Was that a conscious decision or was that just something that happened in the narrowing down? What was your creative process going in? Did you make a lot of songs and then whittle them down, or did you have a clear artistic vision from the start?
Well, as far as my sound, it's just something that's just in me, you know. Like, I listen to so much music. That's why it's hard to kinda pin it down, and I'll refer to it as "communicating." I've never considered myself a rapper. I know that's what everyone calls me, but I call myself a "communicator." And the process was just one of those like — I like to record with my head completely down. I take in the things that are going on around me.
You know, I draw from different people. I draw inspiration from a lot of things. It just came together very organically so when it was time to put the project together, it wasn't difficult at all. It was pretty easy. I think the most difficult thing was actually cutting down the songs, because of course, as an artist, I want you guys to hear everything, because I do it for you.
What's the reaction to Wash & Set been like so far? How have people responded? Have you been pleased with the response? Have you been like, 'Well, you know they're feeling it, but they're saying things I don't like'" What's the vibe on your side?
It's been nothing but great, beautiful, positive vibes. Everyone loves the album — men, women, everyone. So I feel the love. It makes my heart smile when people come up to me and say, 'Yo, 'Attitude' is my song,' or "Don't Do It," or 'Oh, man, that's my joint or this, that, or whatever,' so it's been all great things. For anyone who does have, you know, an opposite opinion of it, that's okay too. You know, that's what music is about. It doesn't matter to me anyway because all that matters to me is that it falls on the hearts and the ears of the people it's supposed to fall on.
I remember like, about a year ago, I was basically fighting people all day, every day, on Twitter about like, "Where have all the female rappers gone?" I'm telling everybody, "They're right here," and now it's like all at once you guys are all kinda just breaking out all at once.
Do you see that as being just a wave, or do you see that being like the culmination of things that have been bubbling underground?
I actually just think that it's just our time. For instance, [Princess] Nokia and Dai Burger and just all of the girls have been working so hard, and we kinda came out around the same time as each other. This stuff takes time, and I think at this moment it's just all about that timing. That's why it's happening the way that it's happening. I'm not seeing it as this wave. I'm just seeing it as, 'finally the hard work is paying off for us.' You know, finally people are recognizing and the music is falling right where it's supposed to fall.
One of the things that first drew me into your style early on was the fact that you were very well put together and then you made this statement about, 'It's not about what I look like.' Like, yeah, the wardrobe is dope but take away the, 'Oh, she's cute.'
I want nothing to stand in the way of my art. I only want to be known, I want my art to live. I want my art to lead me. I'll say that because, I mean, you're gonna see me. I know what the mask represents but, you know, I'm still a girl and you see me. I do what I do, but I just want to make sure that even with what you do see, the art is leading it, you know?
So you see the art first and then you get it, and then it leads you and drives you to get into any and everything else.
Alright, so Wash & Set is out and you're about to go on tour. Do you have any other plans? Like, what's next for you in the future?
Work. This is all about the work. I feel like right now I'm just starting, and I'm sure I have no idea what else I'll have to do, or what's coming with this. But all I do know is that I'm ready for it. And I'm ready to put the work in.
Wash & Set is out now via Hardcover LLC/RCA. Get it here.