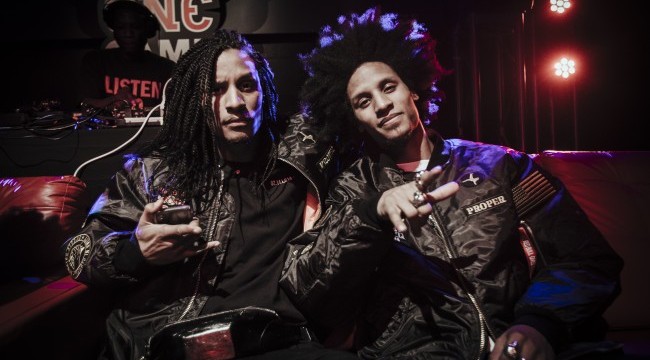 It was Beyonce who first came searching for Les Twins, a feat not many can claim. After their World Of Dance video from San Diego went viral back in 2010, the Queen went on a search for the 6'4" Parisian dancing twins who effortlessly project electrifying energy and crazy chemistry. Something about these two incredible dancers clicked with Bey in such a way that she needed these already-made superstars all to herself. Months later, after meeting them in New York, Beyonce put them on stage for her performance of "Run The World (Girls)" at the Billboard Awards, and, a year later, they've become an expected treat at some point during her stage performances.
After wrapping up their final trek together on the On The Run Tour with Jay-Z in 2014, Les Twins, aka Larry and Laurent Nicolas Bourgeois, reunited with Beyonce on stage for the first time in a long time during her two-hour Coachella set in April. What makes it even more interesting? They only had four days to prepare.
"In one day, my brother came with his luggage and worked just to show her what she missed," Larry said of their emotional Beychella reunion during our interview at Red Bull's BC One Camp in Houston last month. "Being on stage [with her] was just like throw up! Everything happened in four days. It was just like, 'alright Bey you want that, that's what you're going to have, take that.' We really didn't think of it as people seeing it as we coming back… they scream because they see us but it was like our relationship on stage and nobody else."
Before 'Yonce asked them to join her on stage again, Les Twins were out nabbing championships at worldwide dance battles and becoming the first-ever winners of NBC's dance show World Of Dance in 2017.
"We didn't know how badly Beyonce wanted us to come back with her," Lau says. "We all love each other very much and it's not hard to tell. She's a very good friend and an amazing teacher. When she called us personally, to have Les Twins on stage as a comeback after the two years since The Formation Tour and her pregnancy, it was just so scary 'cause we didn't know what we could bring for her to understand that she's with the best. We left her on the OTR Tour with Jay-Z when she was the best show ever and still is the best show."
Watching Les Twins dance in person is like watching a movie you never want to end; the duo is so symbiotic and connected. The experience of watching them during their workshop held at The Secret Group at the Red Bull BC One Camp in Houston was singular. The small space filled up quickly with a mixture of people who had no dance experience and a select few who had plenty — but the twins weren't shy about letting the room know they were expecting a troupe of more experienced dancers.
For this purpose, their teaching style appeared to be more along the lines of follow-as-I-do. There was no real instruction — they're freestyle dancers who've innovated the way hip-hop dancers connect with music through mechanical storytelling. Just keep up. Larry (who rocks a 'fro) was more of a, "you can do it, so do it" type of teacher and Lau (who rocks shoulder-length, coiled locks) was more of the "relax, we're human like you too," type of teacher. It was interesting to watch their routine on display as they whipped up about 15 or so collective dancers into formation.
Continuing our conversation over a plate of hot wings, Lau was quick to point out how different Red Bull competitions are from the first one they've experienced in America, as well as how much he appreciated the intimacy of their Red Bull workshop.
"It was a good moment yesterday, I'm not going to lie," Lau says. "It was so perfect. It was so personal."
https://www.instagram.com/p/BiVL40qHep0/
The twins' frame of reference is more in tune with the Red Bull BC One competitions across the pond in Europe and Japan, where hundreds of the best dancers show up to compete. In America, the hip-hop dance culture is not as popular — and that's where Red Bull is looking to make a change. The Red Bull BC One Camp is the first of its kind, and if you're looking to launch a camp centered around dance according to Lau, booking Les Twins is a must.
"For any kind of performance to have dancers that are literally not known become someone big next because of Red Bull is amazing," Lau said. "It's always a good thing to see Red Bull as a performance label. Tomorrow, it's going to be a big deal to be at Red Bull Camp — as a judge or as a performer. You give yourself 100,000% or nothing and if you guys aren't booking Les Twins it means you're not booking the right dancers."
The twins both raved over the All Styles Battle that went down the previous evening and got excited about all the different techniques they witnessed on the dance floor. Les Twins have their own technique and style which have inspired a slew of dancers including "Rolex" rap duo Ayo & Teo.
"He always talks to me without talking to me," Larry says as he positions his body towards his brother Laurent. "This is the twin side. He's great at what he's doing and I'm great, but I felt like the style that we used yesterday was not for us. It was just to remind people that All Styles Battles is the freedom of doing anything and nobody can judge you. A lot of people will say Les Twins [are] not hip-hop, I'm not hip-hop, but I am. Les Twins' style is something that we created in execution and body language. No need to talk. You already know my emotions, you already know how I feel; if I hate you, you will know. At the same time, you will feel some type of way because I don't give a fuck about you. You will see it in just the way I dance because I am just like whatever, you don't speak French but this is my thing so I just show up and my brother is the same."
There's no question that Les Twins are incredible dancers and that their movements are freakishly connected, so I had to ask when they first fell in love with the art? But they both agreed the love of dance was innate. Growing up in Sarcelles, France, a dangerous suburb outside of Paris, they've continually taken the pain and hurt from the streets and channeled it into dance moves that can best tell their story.
"I have to find no dance," Lau chimes in. "I didn't even know there was dance. I did not know that was dance. I thought it was a curse because my mom taught us to never dance outside because it was a dangerous thing to do. Dance was just a curse. We just learn how to speak with… we are still cursed when we dance."
"Dance picked us up and make my mom pregnant," Larry corrected me. "Dance is my Dad."