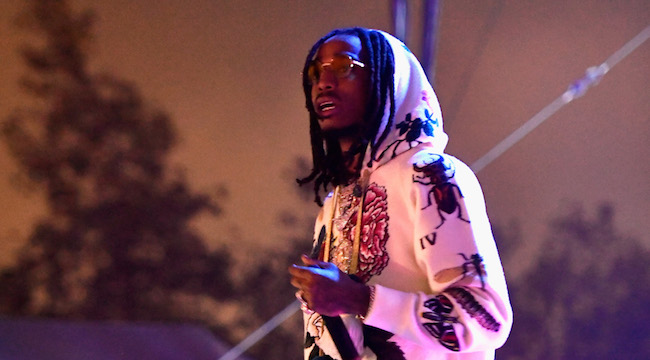 One of the best parts of the original The Lion King film was the trio of hyenas –Banzai, Shenzi, and Ed– who led the villainous Scar's cadre of scavenger henchmen. Due to their chemistry and comedic timing, they lent a great deal of fun to the proceedings. In much the same way, Quavo, Takeoff, and Offset have thrilled rap audiences with their back-and-forth dynamic and boisterous energy. They should be a lock to play the hyena henchmen in Disney's upcoming live-action remake of Lion King, right? At least, that's what Quavo thinks.
The ostensible frontman of the Atlanta three-man band — who is already writing his own Migos-themed treatment to be produced by the group — tweeted that he'd like the opportunity to go for the roles, writing: "3 Hyenas Lions King ?? call us ? @Disney," early Sunday morning, which actually begs a couple of questions. Why was Quavo up so early (or late, depending on your perspective)? Why was The Lion King on his mind, of all things? Why did he pluralize "lions?" These are the real mysteries of the universe.
Whatever the reason, I can't see any reason why the MIgos shouldn't at least be allowed to send in an audition tape. Sure, parents would probably be in an uproar once they heard songs like "Slippery" and "T-Shirt," but when has that ever stopped an established entertainer from securing a coveted film role? As long as they do a good job, stick to the script, and bring the same energy as Cheech Marin, Whoopi Goldberg, and Jim Cummings, they would make for a great addition to The Lion King cast, which already includes a who's-who of big names, including Beyonce.