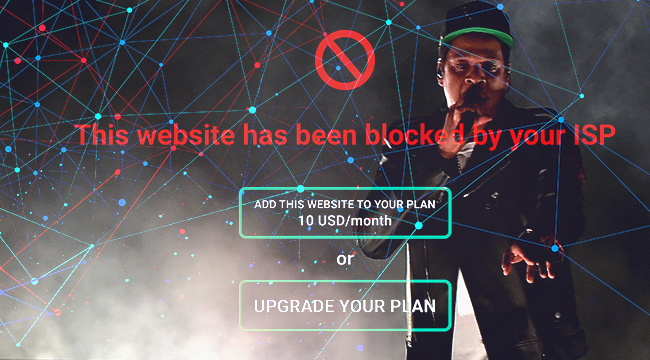 Hip-hop is as crowded as ever, though it doesn't always seem that way scrolling through the Billboard charts and radio playlists. Hip-hop traditionalists constantly bemoan a perceived dearth of lyricism. There's always one card that stops a ten minute tangent about Lil Pump in its tracks, however: The truth that there's good music everywhere, if you dig deep enough. Come December 14 though, a lot of that good music could become permanently submerged.
On that day the FCC will take a vote to potentially repeal Net Neutrality. In plain terms, Net Neutrality keeps the internet an even playing field. If it's repealed, which seems likely at this point, internet providers would have the federally-imposed liberty to slow down or outright block certain websites and apps. They could even charge users for access to certain sites in a manner similar to cable packages. In an era when the President is on a personal tirade against media outlets and independent outlets like LA Weekly are being purchased by greedy conservatives for nefarious reasons, an untarnished flow of information is vital to keep America from spiraling down a dystopian rabbit hole.
A lack of Net Neutrality could have far-reaching implications for our wired world, specifically a hip-hop industry that lives on the internet. Your favorite artist used the internet to grow their fanbase and/or get seen by the right A&R. You likely get all your hip-hop news from outlets like Uproxx. The night Kanye finally drops his next project, you know Twitter will be lit — or it could be a ghost town.
Without Net Neutrality, the internet would quickly become like every other institution in this country: Politicized. More than half of Americans live at or below the poverty line. A large chunk of that figure is comprised of the teenagers and young adults who are the pulse of our culture. We all love Twitter (at least sometimes) but if media conglomerates like Verizon and Comcast begin charging extra for social media, the reality is many struggling college students and young professionals may have to ask themselves: You got Twitter money?
A mass exodus of social media users would strike a critical blow to vital direct-to-consumer avenues for musicians, artists and other content creators. Youtube has already implemented rules which sap how much money a content creator could make from their craft. Yahoo's purchase of Tumblr, which Frank Ocean and A$AP Yams among others used to grow their movements, has changed the service for the worse. Many people already aren't feeling Twitter for picking and choosing which tweets count as harassment. Putting a paywall in front of the already shaky ground is a death knell.
Independent music outlets could also be hard hit by new rules, as they're the most likely sites to receive the slowdown treatment which has been speculated as a possibility of a Net Neutrality repeal. Independent acts who depend on coverage from smaller blogs could find a valuable means of visibility stifled if these sites go under.
Owners and journalists at these outlets could also find themselves falling prey to the realities of capitalism. Take Pigeons And Planes for instance, which is known as a quality outlet for upcoming and independent hip-hop and electronic acts. If Verizon — who recently purchased Complex and Pigeons And Planes — wanted to work in their best interest, they could slow down other independent hip-hop sites to their consumers so that Pigeons And Planes can absorb the consolidation of viewership much in the way that Complex did by buying up or partnering with other independent hip-hop outlets in the early 2000s. That doesn't benefit anyone but a select few people who get to line their pockets.
Many rappers, who would be hurt by the lack of direct-to-consumer opportunities, could choose to pivot their focus to major labels, which ultimately affects the craft. Independent artistry means you get to say what you want to say. Pitching your music to A&Rs can often mean feeling like you must conform to what's selling. When Curren$y left Young Money due to creative differences, he built his own cult following through the internet. His path to success could become impossible to replicate in the near future.
Other artists who resolve to remain independent could shift their focus primarily within their region. This has long happened with artists in Oakland and Texas who are cult heroes but had the potential to be much more. You'd want to hear the next Mozzy or next Maxo Kream, right?
It's hard to say what affect Net Neutrality could have on streaming, though it's unlikely to have much consequence because Apple, Spotify and even Tidal seem to have enough prestige to sidestep any extra paywalls. It's likely that they'd gain even more power as they could strike deals with independent artists who previously took advantage of the direct-to-consumer boom.
When it comes to Soundcloud, some could see a benefit for the easy stream to stardom system — which has produced polarizing artists like Pump and XXXtentacion — getting drained. In theory, only serious artists would pay to be on the service if they had to, but they would garner way fewer listens. Capable artists without the means to get their music on the channels would suffer.
How many artists with potential would we lose out on because the road to visibility became too difficult or expensive? How much would the networking aspect of Soundcloud be hindered if the site's dynamic drastically changes? What extreme would an artist go to in order to gain attention and go viral in a smaller pond? What ramifications would limited domestic internet access have on international urban music scenes in London, Nigeria, and developing musical hotspots?
The potential economizing of the internet elicits a wide range of questions, but none of the answers seem as beneficial as keeping Net Neutrality in place. If you'd like the temperature of the culture to stay the same, it'd make sense to email or call your local congressman or FCC Chairman Ajit Pai at (202) 418-1000.