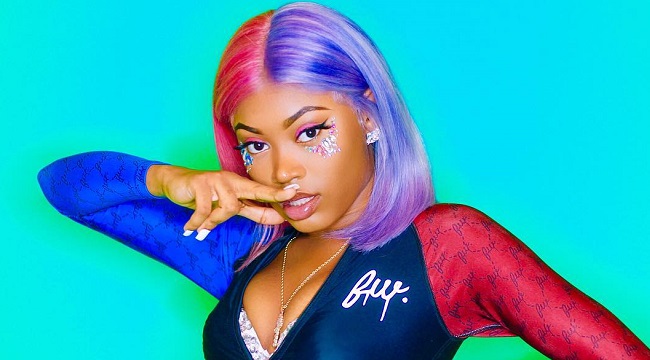 The music world is currently abuzz about Nicki Minaj. She dropped a pair of comeback singles with "Chun Li" and "Barbie Tingz" today, but she also have a lengthy, revealing interview with Apple Music's Zane Lowe. She told him that she felt that Cardi B has never shown her "genuine love" in an interview until very recently, a circumstance probably stirred by them being needlessly pitted against each other as female MCs by a patriarchal culture. It doesn't have to be that way, however. Nicki showed us the way by shouting out a slew of upcoming women rappers. In case you're not familiar with them, here's a quick crash course:
Kash Doll
Kash Doll is perhaps the most well-known person Nicki has shouted out based on her standout appearance on "So Good" from Big Sean's Double Or Nothing collaboration with MetroBoomin. The 26-year-old Detroit MC has been steadily building her name for a couple years, and looks poised to have a breakout in 2018. She recently released her Brat Mail mixtape, which you can stream here.
Asian Doll
In a world of artists with dyed hair, face tattoos and other visual oddities, Asian Doll still stands out with her creative, undoubtedly Nicki-inspired, fashion sense. But that's not it. The "Queen Of Teens" is also a talented rapper in her own right, with projects like Kill Bill Vol. 1 and Outtaspace speaking well for her. You can stream Outtaspace, which was released last Summer, here.
Ms Banks
London MC Ms Banks has the distinction of being the first person on this short list to acknowledge Nicki's shoutout. She also has a bit in common with Nicki in terms of being a pioneer of sorts. Nicki was one of the biggest active artists in New York for nearly a decade but never got her just due. Similarly, Ms Banks is one of the first young rappers of her generation with a real chance of breaking over into American relevance. Hopefully, she's appreciated for songs like "RIP," which you can check out below.
Maliibu Miitch
Maliibu Mitch is not from where you'd guess. She's from the South Bronx, NY, the birthplace of hip-hop. Her bassy delivery and fearless mic presence harken back not just to Nicki, but Lil Kim and Foxy Brown. The self-proclaimed "Petty Poppin Hood Booger Frm Thaa South BronxX" is still building her relevance, but the Nicki shout-out will go a long way. You can stream her "The Count" video below.