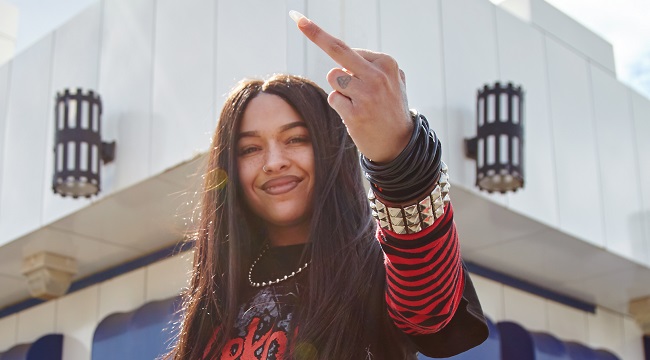 The prevalence of emo in rap has been one of hip-hop's most intriguing developments. Rappers have always explored their emotion, but rarely has hip-hop accepted artists who forfeit the mirage of machismo to openly wade in their bleak outlooks on the world.
Lil Peep and Lil Uzi Vert are some of the prominent young artists who have markedly fused the emo alternative rock scene with hip-hop. Peep died tragically of an overdose in 2017. Even without his physical presence, the lane he helped carve out is intact and has most recently been explored by the ever-versatile Princess Nokia on A Girl Cried Red.
Princess Nokia, born Destiny Fraqsueri and formerly known as Wavy Spice, is a master of dynamism. As a child of the internet age, she's able to mirror her influences and seemingly morph into myriad artistic movements, whether it's 70s-inspired funk on Honeysuckle or futuristic electronic on Metallic Butterfly. The constant efficacy of the projects hints that she's not merely inspired, but adept at accentuating different aspects of her temperament through a variety of genres.
She succeeds at doing that again on A Girl Cried Red, a moody 8-track mixtape that truly does the project's Slipknot shirt-clad cover art justice. The mixtape doesn't solely exist in gloomy soundscapes, presenting a sonic balance. There's upbeat production such as "Flowers And Rope" and "Look Up Kid" being pulled back down to earth by the pensive gravitas of "Little Angel" and "Your Eyes Are Bleeding."
One of the more noteworthy aspects of the project is a folksy twang that Nokia employs at junctures of the project, most notably during "Look Up Kid" and pieces of "For The Night." The tonal flourish is a polarizing creative choice that should work for most fans of alternative rock but doesn't resonate as well as her unencumbered crooning on, for instance, album standout "Your Eyes Are Bleeding."
When her lithe voice stretches lament across the track's wistful piano chops and thumping 808s – or "Little Angel's" sanguine acoustics – it better radiates the corrupted innocence that's at the heart of the youth-centered emo scene. Similarly impressive is her harmonious rhyming on tracks like "At The Top" and "Morphine" that showcase the perfect possibilities of fusing swaggering trap and emo sonics.
Lyrically speaking, emo vibes are undoubtedly the bedrock of the album. She radiates a palpable weariness throughout the project, encapsulated by her beautiful summation of, "wanna face my demons but denial makes me high" on "Your Eyes Are Bleeding." The vibe isn't 100% downtrodden, however, as she sings, "I know it gets scary but you will be fine / You don't have to deal with the voice in your mind" on the galvanizing "Look Up Kid."
The project works best when she sidesteps general platitudes of sadness and gets introspective. On "Flowers And Rope" she sings, "thought she was different but she's like the rest," but the previous lyrics don't quite present enough imagery or specifics to make her narrative fully hit. While general pluralities are typical of the emo sound, lyricism that cogently highlights individual trauma reverberates the strongest.
That's exactly what takes place toward the end of the mixtape, as the last three songs delve into more three-dimensional portraits of hardship. Her "my money like a blanket and I hold it when I'm lonely" line on "Morphine" is a brilliant juxtaposition that on the surface sounds like a brag, but ultimately serves to illustrate an existential misery artificially placated by money.
"You can play pretend with your friends that I ain't the sh*t / You can keep ignoring all the facts in what I really did," she raps on "At The Top," possibly the most overtly personal moment on the mixtape. "I don't front for the gram this is just who I am," she proclaims over eerie synths and schizoid drum programming. As beloved as she is among her cult fanbase, she has faced criticisms from naysayers on social media – but she's clearly not going to take it laying down.
With a genre as self-involved as emo, it would have been great to see more introspection like that throughout the project, especially within the more melancholy, rock-leaning moments of the mixtape. That said, A Girl Cried Red is another solid offering from an artist with seemingly boundless capabilities.
Check out her upcoming tour dates below.
4/12/18 — Santa Ana, CA @ The Observatory
4/15/18 — Indio, CA @ Coachella Festival
4/20/18 — San Francisco, CA @ 1015 Folsom
4/22/18 — Indio, CA @ Coachella Festival
4/29/18 — Chicago, IL @ The Metro
5/5/18 — Brooklyn, NY @ Elsewhere
5/6/18 — Brooklyn, NY @ Elsewhere
5/12/18 — Miami, FL @ Rolling Loud Festival
5/25/18 — Barcelona, Spain @ Venue TBA
5/26/18 — Madrid, Spain @ Tomavistas Festival
5/27/18 — A Coruna, Spain @ Inn Club
5/31/18 — Athens, Greece @ Piraeus 117 Academy
6/1/18 — Copenhagen, Denmark @ Distortion Festival
6/2/18 — London, UK @ Field Day Festival
7/6/18 — Zamárdi, Hungary @ Balaton Sound Festival
7/7/18 — Turku, Finland @ Ruisrock
7/13/18 — Dublin, Ireland @ Longitude Festival
7/14/18 — Dour, Belguim @ Dour Festival
7/15/18 — Berlin, Germany @ MELT Festival
7/19/18 — Benicassim, Spain @ Benicassim Festival
7/20/18 — Lisbon, Portugal @ Super Bock
7/21/18 — Seyðisfjörður, Iceland @ LungA Art Festival
8/18/18 — Hamburg, Germany @ Dockville Festival
A Girl Cried Red is available today via Rough Trade Records. Get it here.