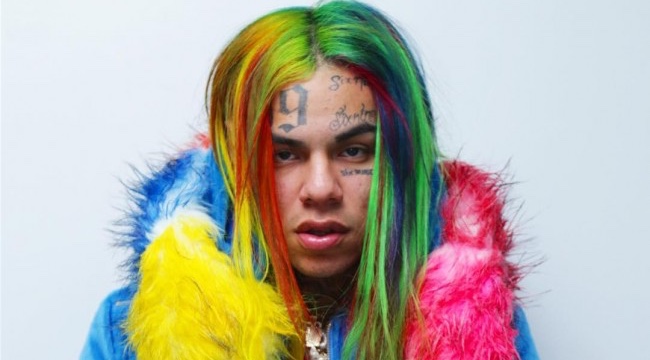 Tekashi69 has been one of the most polarizing and controversial figures in modern rap for months now. Everything from his unconventional looks to his name just rubs certain rap fans the wrong way. The numbers prominently featured in his name and inked repeatedly onto his body have long been one of his pressure points, seemingly a move on the part of the New York rapper to pique interest and irritate. However, it appears that Tekashi may have had slightly deeper reasons than just juvenile provocation if the caption of the photo he recently posted to Instagram is any indication.
The photo depicts Tekashi hugging an old woman during a trip to the Dominican Republican, which he says is eye-opening. He explained the "69" motif with a declaration that it's a reminder to himself to remember his origins and allow for different perspectives than his own, or as a defense against people who would look at him "upside down." "I never lost sense of where I came from," he wrote. "That's what makes me 69. The true meaning of 69 is just because you're right doesn't mean I'm wrong YOU JUST HAVENT SEEN LIFE FROM MY PERSPECTIVE. Turn the 6 upside down it's 9 but remains the same in a different perspective. Open your mind and heart."
https://www.instagram.com/p/Bg1pVMoAzvt/?taken-by=6ix9ine_
In regards to the revelation he had while in the DR, he said on a different photo caption, "6ix9ine_Words can't explain the anger I have right now… I grew up not having shit in Brooklyn… Everyone knows me for giving back in my community BUT as a Latino I feel the need to help my people. I'm not Dominican… But we are ALL ONE ✊? ????????????Life is what you make it. If I made it I'll try all in my power for all us to make it… at least have hope. ?? God bless us."
While Tekashi has mainly become known for standing in the eye of a storm of controversy, it's nice to see him espousing positivity, even if only for a moment. Travel is a life-changing experience; perhaps Tekashi's next transformation will reflect some of the wisdom he seems to be gaining while out of the country.