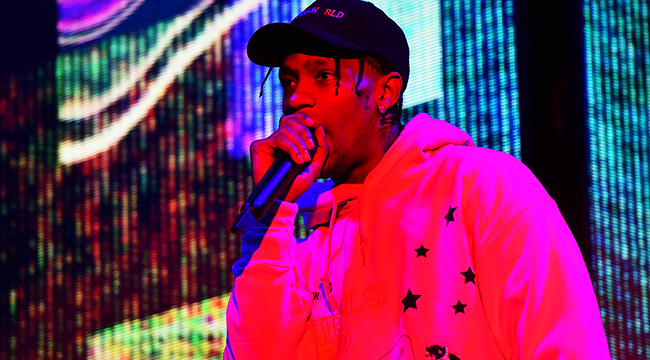 This summer of hip-hop releases was so loaded that it probably deserves its own Grammy category — and Travis Scott was the biggest winner. Sure, Pusha's Daytona is my go-to project, and there's no denying that Drake's Scorpion was mammothly successful, but neither of those artists achieved as big of a net gain in cultural standing. Pusha is still the same universally respected, "never had a wack verse" legend of Jadakiss' ilk, and Drake needed Scorpion just to wash the stench of "The Story Of Adidon" off. Astroworld took Travis from a polarizing star with a cult fan base into the top tier of hip-hop artists along with Drake, Kendrick, and J. Cole.
What else can you call an artist who went no. 1 on Billboard for two weeks straight (outselling Nicki Minaj's Queen in its second week) and is selling out arenas in LA and New York City so fast that he needs to add additional dates? Stevie Wonder isn't popping out for just anyone, but he played the harmonica on Scott's "Stop Trying To Be God." Frazier Tharpe of Complex deemed Rodeo, Scott's 2015 project, "an enjoyable album for his fans peppered with undeniable bangers for his detractors." Astroworld isn't just peppered with undeniability, it's inundated with it. Scott's A&R Sickamore told Rolling Stone that after his 2016 Birds In The Trap Sing Mcknight failed to earn a Grammy nomination, they wanted to create an "undeniable" project.
From a new entry into the cultural lexicon with "Stop Trying To Be God," to bangers like "Sicko Mode," "Coffee Bean," and "Stargazing," they achieved that. Travis' success isn't merely a victory for him, but for all the trap artists who have been trying to navigate criticism that they're "killing hip-hop" with their genre-bending exploits. Astroworld might as well have been called For Trap Artists Who Were Told They Weren't Artists. Earlier this summer I pondered if trap music was on its way out. I asked, "will more artists follow Travis Scott's model of putting greater care into his polished production?" Astroworld makes that question even more pressing.
Hopefully, producers and artists like Migos, Murda Beatz, Future, Lil Uzi Vert, and other trap royalty will heed his formula and deliver the strongest music that they're capable of with their next work. The reason that the '90s boom bap sound earns its spot as the golden era of hip-hop is because from roughly '92-'97, nearly every new act was swinging for the fences with their releases. From A Tribe Called Quest and Wu-Tang's first two albums, to Nas' Illmatic, Mobb Deep's The Infamous, Biggie's Ready To Die, Raekwon's Only Built 4 Cuban Linx, CNN's The War Report and so many other beloved projects, New York artists compelled each other to come with nothing less than their best. Prodigy has said that Illmatic made he and Mobb Deep partner Havoc want to switch their whole format for The Infamous. Jay-Z rhymed, "thought we was all dead" when he heard Illmatic.
Today's trap artists parallel the camaraderie of that era, but not the same desire to create timeless work. Trap music runs the world, but there seems to be a dearth of canonical albums that point to why. There are plenty of beloved songs, lines, and verses, but the genre is lacking in the albums department. While Cardi B, Future, and Playboi Carti had strong offerings, there were too many projects that felt bogged down in an uninspired haze and didn't present anything new. But Astroworld is a well-crafted project that serves as a new gold standard for the genre.
One of the major criticisms levied against trap artists is that they're too prone to formulaic releases that belie a self-defeating carelessness. Migos' process for their disappointing Culture II album was revealed to be focused more on supply than precision, with each song done on average in "20-to-45 minutes." Astroworld upended that process with a painstaking attention to detail. It's been in creation for over two years, with some songs taking as many as fifty sessions to refine according to Sickamore.
Kanye West infamously finished his Ye album the day it was set to released; Travis Scott did the same with Astroworld but for different reasons. While music feels like an ancillary part of Kanye's consciousness at this point, it has consumed Travis. Kanye's legacy is cemented, but Travis' is riding on everything he does in the next several years. He wanted every juncture of Astroworld to be up to optimal standards
In achieving that goal, he paralleled the process of his musical mentor Kanye's arguable opus, 2011's My Beautiful Dark Twisted Fantasy. Yeezy headed to Hawaii with sky-high aspirations and shot down popular disparagements of trap music with each deliberate decision. While some musical purists still contend that Trap producers aren't musicians, he managed to get figures like Stevie Wonder, John Mayer, James Blake, Earth Wind & Fire's Philip Bailey and Tame Impala's Kevin Parker, who thought otherwise and helped highlight the relatively untapped musicality of trap music. Kanye took arguments deriding him as a "curator" more than a lyricist and flushed them down the toilet, rapping more than he has in his past moody, melodic projects.
And while people still won't be in the barbershop arguing for Travis Scott's lyrical supremacy, you'll be damn sure that many of them will get in their car afterward and bang Astroworld. That's what Travis was after. Sickamore noted that Travis sees past genre, and merely looks at himself as an artist instead of a hip-hop artist. Even still, his work on Astroworld is largely recognized as a hip-hop-based album on its way to classic status.
Whether you think trap is an evolution, a transition, or a devolution for hip-hop, it's undeniable that Travis personifies a new frontier where stunning lyricism isn't a prerequisite for being a mainstream superstar. As critics of mainstream hip-hop bemoaned fading lyrical standards exemplified by relatively few passable XXL freshman freestyles in recent years, and Travis himself was framed as something less than a rapper, he steadily ascended.
Now, he's literally in the arena with the world's biggest rappers. Even if his role in rap isn't fully defined, his success is. Hip-hop heads always shot down the talking point of mainstream hip-hop being less about lyricism by noting that wordsmiths like Kendrick, J. Cole, and Drake are still the highest selling acts. But what happens if more artists like the man known as La Flare enter that stratosphere? Thanks to Astroworld, it's a scenario to think about, which makes him a pioneer.
Astroworld is out now via Epic Records. Get it here.