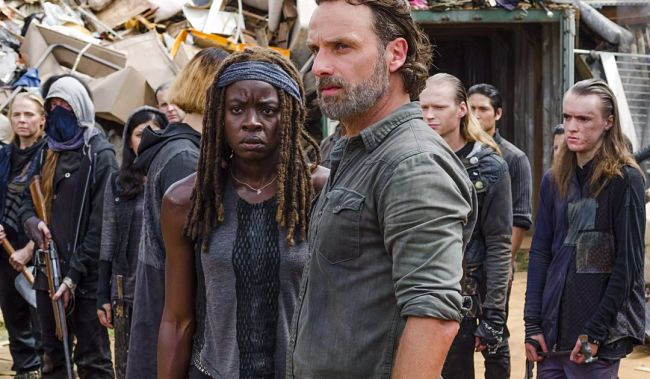 Andrew Lincoln made it official at San Diego Comic-Con, where he felt at home surrounded by hordes of walkers: "This will be my last season playing the part of Rick Grimes." Usually when an actor is preparing to leave The Walking Dead, it's because they're going to die. But Lincoln is leaving open the possibility of Rick returning in some capacity (there's talk of a second spin-off). For now, though, the actor described his final episodes (which have already wrapped) as "releasing air finally." Lincoln also told EW Radio the reason he's departing.
[The] reason is simple: family. Lincoln lives in England and The Walking Dead shoots for over half the year in Georgia, keeping him away from his wife and kids for prolonged stretches of time. "I have two young children, and I live in a different country, and they become less portable as they get older," says the man who helped change the zombified face of television. "It was that simple. It was time for me to come home." (Via)
Lincoln will also now have time to make a true sequel to Love Actually. This time, he'll play a film critic who explains why Love Actually ACTUALLY isn't a good movie). Hm, maybe he should have stayed on The Walking Dead after all.
As for what to expect in season nine (which premieres October 7), "Rick Grimes has got a long game, and he knows that unless we trade, unless we look after each community, it's going to fall apart," Lincoln teased. "And that's where we meet a fellow band of warriors just as it's about to kick off. It's a fragile peace."
(Via Entertainment Weekly)