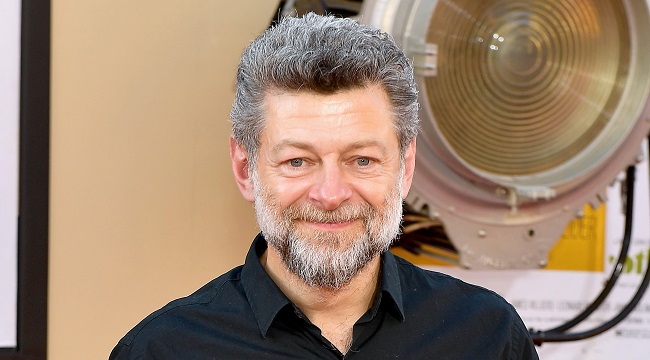 Aside from the critical and box office success of Spider-Man: Into the Spider-Verse, Sony Pictures' claim to retain its Marvel licensing also found a sure footing in its wacky Venom film with Tom Hardy. So, of course a sequel is in the works, but who's going to direct it? A couple of prominent names have been rumored for some time now, including Lord of the Rings and The Hobbit alum Andy Serkis. The Mowgli director confirmed his talks with Sony over the weekend, but on Monday, news of his deal broke over at The Hollywood Reporter.
Unsurprisingly, neither Sony nor Serkis' representatives had anything official to say about THR's report, but it seems the actor-turned-director has signed on to helm the next installment of Hardy's globally successful franchise. Apparently, "Serkis flew to Los Angeles the week of July 22 to meet with Sony brass on the project." He "was one of several filmmakers in the mix for the job," but it sounds like the gig was ultimately offered to him — and he accepted it.

Sure enough, Serkis took to Twitter to confirm THR's story. "It's happening," he tweeted. "The Symbiote has found a host in me and I'm ready for the ride… Can't wait!" The tweet was accompanied by a photo of the director holding up an issue of a Venom comic.
Interestingly, it was the sixth and final issue of the Venom: Lethal Protector limited series that partially inspired the first film. The 1993 story was the first time that the character of Eddie Brock had ever served as the main character of his own comic, which saw him and Spider-Man agreeing to leave each other alone so long as the occasional villain stopped committing crimes. Brock moved to San Francisco to get away from New York but, unsurprisingly, trouble followed him there.
This doesn't mean that Tom Holland's version of Peter Parker/Spider-Man, who reigns supreme in the Marvel Cinematic Universe, is going to pop up in the Venom sequel. Then again, even Marvel Studios head Kevin Feige himself said that such a crossover was seeming more and more "likely," given the success of both franchises.
(Via The Hollywood Reporter)